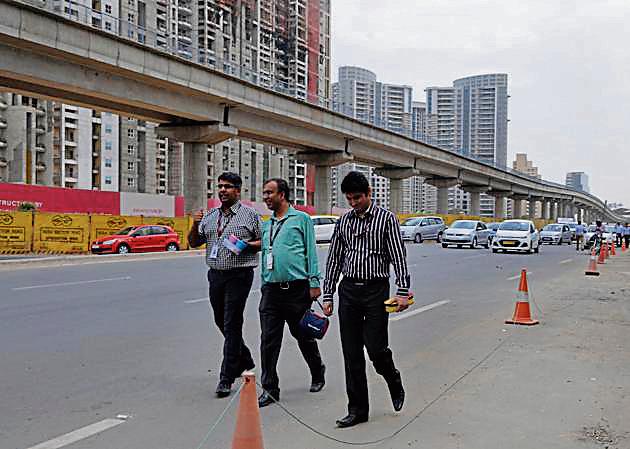 CM seeks ways to make Gurgaon's Golf Course Road safer for pedestrians, cyclists
The CM has told the police commissioner to explore options for pedestrian paths and cyclists' lanes
PUBLISHED ON MAY 04, 2017 12:12 AM IST
Chief minister Manohar Lal Khattar directed Gurgaon commissioner of police Sandeep Khirwar on Tuesday to discuss provisions for pedestrian paths and cyclists' lanes on the Golf Course Road with authorities of the Haryana urban development authority (Huda) and DLF.
The 8.3km, 16-lane, signal-free expressway connects Shankar Chowk with Sector 55/56.
Khattar's directions came after model and actor Milind Soman raised the issue at a conference on road safety held a hotel in Gurgaon on Tuesday. Soman, who is the brand ambassador of the Haryana Vision Zero programme, pointed out in his speech that the expressway was being used by a large number of people, but didn't have pedestrian paths and cyclists' lanes, making it dangerous for such commuters.
Residents and people commuting to work on the road have also been raising the issue on social media platforms.
The chief minister said that as the road has 16 lanes there is enough space to provide dedicated lanes for pedestrians and cyclists. He entrusted to Khirwar the task of coordinating with Huda and DLF authorities and get such provisions made on the expressway.
"We will be taking up the matter with the authorities concerned (Huda, DLF)," Khirwar said on Wednesday. DLF authorities were unavailable for comment.
Sanjeev Kumar Saxena, a Gurgaon-based road safety activist, likened travelling on Golf Course Road to driving in a death well.
"This road has an engineering fault. I have serious doubts about changes being made to the road. Leave alone cyclists, it is tough for pedestrians to cross the road," said Saxena.
He also questioned the provisions authorities are making to make the road safer. "The CM should come as a common man and see the reality on the road. Who will take responsibility in case of accidental deaths?"
In 2015, there were over 11,000 traffic incidents in Haryana that led to around 4,900 casualties.
Sariska Panda, manager of sustainable transport at World Resources Institute (WRI), India, said the expressway has many underpasses, but now is the time to incorporate pedestrian and cycling tracks too.
"This road has engineering faults. Intersections are designed in a dangerous way," she said.
Close