Gurgaon administration delegates tasks to tackle pollution
Published on Feb 17, 2017 10:25 PM IST
The district administration held a meeting with various departments on Friday and asked them to take adequate measures to curb air pollution in Gurgaon.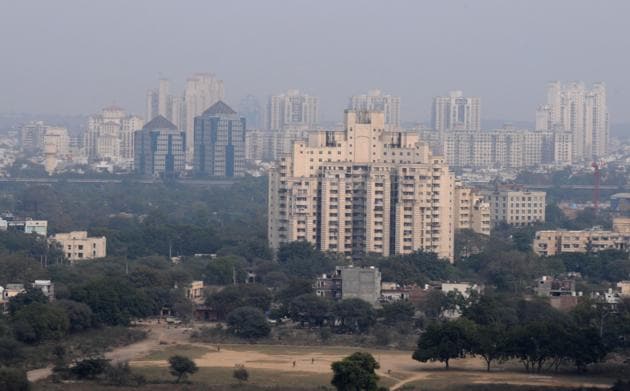 The district administration held a meeting with various departments on Friday and asked them to take adequate measures to curb air pollution in Gurgaon.
The air quality slid to 'severe' several times in the last three months and on Wednesday, the air quality index
(AQI) rating for Gurgaon was worse than Delhi's. AQI is an indicator of the air pollution from the levels of nitrogen dioxide, particulate matter (PM)10 and PM2.5.
To mitigate the issue, the district administration, regional transport authority (RTA), traffic police, Municipal Corporation of Gurugram (MCG) and the Haryana State Pollution Control Board (HSPCB) held a meeting on Friday.
Gurgaon deputy commissioner Hardeep Singh said, "We have directed the MCG, RTA, traffic police and HSPCB to take steps to tackle air pollution."
The HSPCB said it will sprinkle water on Golf Course Road and in areas close to construction sites to curb pollution. "We have identified a list of elements that are polluting the city air and all departments concerned were given instruction to take adequate steps to lower pollutants," Bhupender Singh, regional officer, HSPCB, said.
The RTA said it is conducting regular raids on pollution under control (PUC) certificate issuing centres to check vehicular pollution. "We are monitoring the system and violators are being fined," Trilok Chand, RTA, Gurgaon, said.
The traffic police department has been asked to decongest areas where jams contributes to air pollution.
Some of the agents identified as responsible for the rise in pollution are waste burning, uncontrolled construction, plying of unfit vehicles and rampant tree felling.
Waste burning
As per data of the HSPCB, burning of solid wastes emits pollutants such as carbon monoxide (CO), hydrocarbons, particulate matter, nitrogen oxides and sulphur dioxide.
Even though there is a ban on waste burning, there have been many instances of burning in various areas.
The MCG has been asked to impose a fine on violators and also monitor the areas that are prone to waste burning. Also, the civic body has been asked to clean roads only using sweeping machines.
Plying of unfit vehicles
Approximately 3.5 lakh vehicles ply on the Delhi-Gurgaon Expressway every day, contributing to air pollution.
The CO level is frequently recorded more than seven times higher against the prescribed limit of 4 mg/m³ as vehicular emission is one of the main contributors of the toxic gas.
According to the Environment Protection Rules, 1986, every vehicle should comply with the mass emission standards. However, man vehicles ply without a PUC certificate. The city has more than 100 PUC certificate issuing centres that operate without licences and adequate equipment.
The RTA has been directed to conduct regular inspections at PUC issuing centres. The department has been asked to cancel the licences of centres if they are violating environment norms.
The traffic police has been asked to conduct regular checks of vehicles as a PUC certificate is only valid for six months.
Uncontrolled construction
Rapid urbanisation and construction activities have made the air unfit to breathe. The city is undergoing many development projects such as underpasses construction at Iffco Chowk, Rajiv Chowk and Signature Tower intersection. Also, construction activities on Golf Course Road, Southern and Northern peripheral roads are also contributing to the pollution.
Construction materials are to be covered with green sheets. The HSPCB has been told to monitor construction activities. The pollution watchdog has to impose a fine and stop construction if there is any violation of environment norms.
The HSPCB said it has started inspections from Friday.
Less green cover
As per official figures, the city has lost five times more trees this year compared to the last three years. This aggravates pollution levels as trees help clear pollutants in the atmosphere.
The district administration directed the MCG, the HSPCB and other departments to plant saplings and to protect the green areas that act as natural air purifiers.