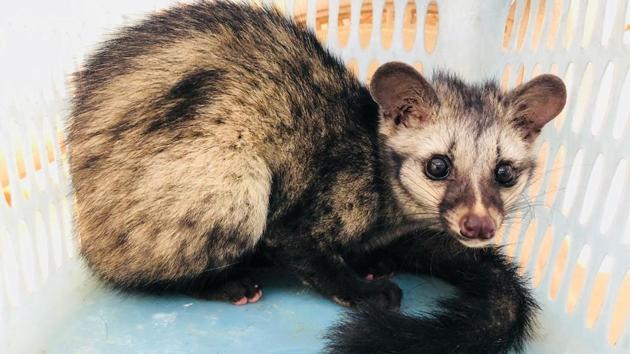 Gurgaon: Asian civet cat rescued, undergoing treatment
Doctor with the forest department said they would bring the two-year-old mammal to Gurgaon on Wednesday and release her in the Aravalli hills once she recovered
PUBLISHED ON APR 04, 2018 06:05 PM IST
The Gurgaon wildlife department team rescued a two-year-old Asian civet cat from Gadoli village, approximately six kilometres from the city, on Sunday.
She was found injured and unable to move near a vehicle. She was taken to Sultanpur National Park, around 15 kilometers from the city, for treatment and later shifted to the Rohtak Zoo — the only animal facility in the state with a treatment room.
"Her leg and lower side of the stomach were severely injured. We applied an antiseptic dressing, gave her glucose water for weakness and fed her antibiotics for two days. Now she is feeling better. On Tuesday, she ate a banana and two eggs, and showed some movement," said Dr Ashok Khasa, a veterinary surgeon in the forest department, Gurgaon.
The doctor said they were bringing her to Gurgaon on Wednesday and once she was perfectly fine, she would be released in the Aravalli hills.
The Asian civet cat is protected under Schedule II of the Wildlife Protection Act, 1972. The species can survive on a wide range of habitats and can rarely be seen in urban environments as it is shy and wary of humans. It feeds on fruits, berries, coffee beans, insects and small mammals.
Its perineal gland secretes a waxy civet 'musk' that is used in perfumes and medicines.
The Wildlife Institute of India (WII), Dehradun, in its survey of 51 sites in the Aravalli hills last year in June, had revealed the presence of 10 mammalian species that also included the small Indian civet. However, Indian civet cats is rare.
On October 14 last year, two Indian palm civet cats were released back into the Aravalli hills after being rescued by the wildlife department from near Bhondsi Jail.
Close