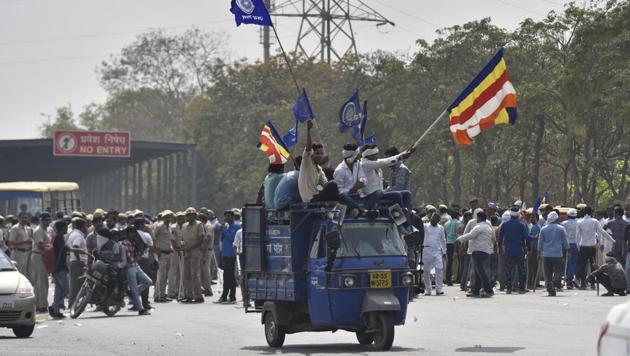 Gurgaon: Bharat Bandh delays school buses, police say not
Hindustan Times | By Kartik Kumar & Leena Dhankhar
, Gurgaon
PUBLISHED ON APR 02, 2018 11:33 PM IST
Panic gripped parents whose wards were on their way home from school on Monday when protesters blocked roads and unleashed violence across Gurgaon during 'Bharat Bandh' called by Dalit organisations against a Supreme Court order allegedly diluting The Scheduled Castes and Scheduled Tribes (Prevention of Atrocities) Act 1989—a law meant to protect the marginalised communities from abuse and discrimination.
As school buses got delayed because protesters had blocked the Delhi-Gurgaon Expressway and most arterial roads across the city from 11am till 3pm, worried parents hoped their wards wouldn't get caught in violence as the children of a private school did in Bhondsi this January.
Lalit Singh, a resident of Sector 51, whose child studies in Class 4 of a private school, said, "I became impatient when the school bus got late. I kept calling the bus attendant and checking the GPS location of the bus until my son reached home."
Another parent Isha Dayal said her daughter came home over an hour late on Monday. "I did not get any message from the school informing us about the delay or the reason for it. The WhatsApp group of parents sent all messages and kept everyone informed about the goings on outside," she said.
Some schools even deciding to not allow buses to venture out till the protest died down, making parents rush out to bring their children home. One of the parents had a harrowing experience near the HCC Metro station.
"I had to leave my car right in the middle of the Huda Metro station crossing. Police were standing right next to the protesters and did nothing to help me or anyone else. When I urged the protesters to allow us to go, they said it was my fault that I had sent my child to school on a day when they had declared a 'bandh'," said Swati VM, another parent.
Despite a number of parents reporting delays and getting messages from schools stating that parents must come and collect their wards, ACP (traffic) Sandeep Malik maintained the 'bandh' did not affect schools.
"The agitation started around 9.30am and students were already in schools by then, and it got over before 1pm. We controlled the situation and school buses were not impacted. Teams were deployed at all major spots. No untoward incident was reported," he said.
Deputy commissioner Vinay Pratap Singh also maintained that the city remained peaceful, and the protests did not affect functioning of the schools in any way. "The schools will continue to function as per their normal schedule (on Tuesday)," he said.
Meanwhile, the traffic movement on the Delhi-Gurgaon Expressway, most arterial roads and service lanes remained severely hampered till 3pm. This, in turn, affected vehicular movement on the sector roads as well.
With the Delhi-Gurgaon Expressway remained blocked for an hour at the Rajiv Chowk from noon to 1pm, confused commuters were left at the mercy of the Gurgaon police to shepherd them to safety.
"Around noon, I was heading towards Rajiv Chowk and was stuck in a sea of vehicles as protesters squatted on the main carriageway. I was at the same spot for 30 minutes, then the traffic police officials came to redirect vehicles towards Signature Tower," Manish Sinha, a resident of Essel Towers, said.
Even though the Gurgaon police acted timely in dispersing protesters at the Huda City Centre Metro station, the serpentine line of vehicles took hours to clear. People faced problems finding cabs and availing public transportation owing to the congestion, making the last-mile commute a major hassle.
Commuters coming out of the HCC Metro station were a harrowed lot as auto and e-rickshaws were nowhere to be found. Commuters had to walk for kilometers in search of public transport.
"I usually get an auto-rickshaw towards Sector 47 without any difficulty. Today, all the drivers refused to ferry me there owing to the congestion. It was only after I reached near Sector 45 did a driver agree to ferry me, and that too for an inflated fare," Anand Rungta, a resident of Sector 47, said.
Timeline:
10am: Protestors gather at Kamla Nehru Park.
10.30am: Close few shops at Sadar Bazaar.
11am: Kanhai villagers block traffic on the Bhagwan Mahaveer Marg.
12pm: Traffic on the e-way blocked by protestors at Rajiv Chowk.
1pm: Protestors shift their protest to the service lanes, movement on the e-way restarts.
1.45pm: Protestors gather at HCC, police quickly disperses them.
2pm: Kanhai villagers and protestors on Delhi-Gurgaon Expressway end their protest
Close