Gurgaon: MCG poll candidates allege irregularities in counting
Published on Sep 28, 2017 09:34 PM IST
The candidates said they appealed for a recount of the votes but the officials with help of the police allegedly threw them out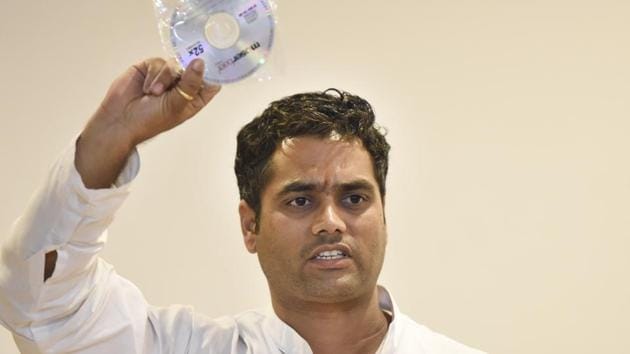 Four days after the Municipal Corporation of Gurugram (MCG) election 2017 result was out, two candidates who lost their seats have levelled allegations that the officials on duty at counting centres have been crucial in their defeat. The candidates have lost the election by a thin margin.
Speaking to the media persons, the candidates said they appealed for a recount of the votes but the officials with help of the police allegedly threw them out.
Prashant Bhardwaj of Ward 10 and Poonam Kataria of Ward 22 spoke to the media with a CD and an audio recording which according to them is an evidence to support their allegations.
Bhardwaj contested as an independent and lost to Sheetal Bagri, another independent, by a narrow margin of only 87 votes.
Bharatiya Janata Party's Kataria lost to Sunita Yadav, an independent candidate, by a margin of 463 votes from Ward 22. Kataria's husband Ravinder Kataria won MCG election in 2011 on BJP ticket.
Sunita joined the BJP on Wednesday along with five other councillors who contested as independents.
When asked why they did not approach court, Prashant said, "We will move petition in Punjab and Haryana high court definitely. We will produce evidences of corruption in polling, counting and manipulation election at every level."
Bhardwaj said that he was declared winner around 7.30 pm after which he returned to his residence and began celebrations.
"Half an hour later, we got information that Bagri was announced winner by only 87 votes and I lost. I rushed to the centre and kept appealing for recounting in my presence but the officials turned down our appeal and threw me and my supporters away from the centre. This is a clear sign of corruption in counting. I rang up a senior politician who offered help in winning in recounting with a condition of huge amount. I decided to take up the issue and I am not going to sit quite until I get justice as recounting of votes in my ward," said Bhardwaj.
Poonam Kataria said, "We have appealed to other candidates like us to join us to end such practices. We will make a final appeal before the deputy commissioner (DC) Gurgaon Vinay Pratap Singh before filing petition in the court."
The MCG election was held peacefully in Gurgaon on September 24 at 546 booths, followed by counting under the supervision of returning officials.
Pradip Dahiya, additional deputy commissioner (ADC) said, "We would not comment what candidates allege but they are free to go to court for remedies. We can say that our returning officials did excellent jobs. ROs don't announce results twice."