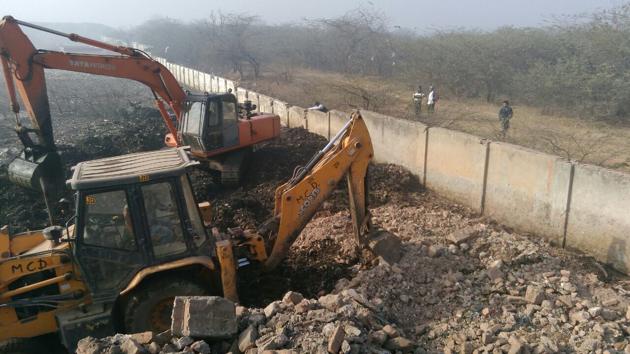 Gurgaon: MCG starts treating leachate in the Aravallis
The Bandhwari waste treatment plant, located in the Aravallis, was closed after a fire broke out in 2013
UPDATED ON JAN 19, 2018 09:46 PM IST
After residents of Bandhwari and green activists complained about dumping of untreated leachate (black seepage) from the waste treatment plant into the Aravalli forests, the Municipal Corporation of Gurugram (MCG) swung into action on Friday and started treating the leachate scientifically.
The Bandhwari waste treatment plant, which is located in eco-fragile Aravalli area, has been lying defunct for the last four years and is polluting the groundwater, claimed the report by the Central Pollution Control Board (CPCB) in 2017.
The plant is located along Gurgaon-Faridabad Road and anyone travelling along the road can see a mountain of wastes at the site that has been lying untreated for the last four years.
As per the MCG record, every day, more than 1,000 tonnes of waste from Gurgaon and Faridabad are dumped at the plant and this is neither processed nor properly disposed of.
"We have started the process to treat the leachate in the Aravallis and the work to set up a leachate treatment plant in Bandhwari is on the fast-track. Soon, we will be able to treat the leachate at the site," said YS Gupta, joint commissioner of MCG.
The villagers claimed that the workers at the site have been dumping leachate in the Aravallis.
"The workers fill tankers with leachate and dump it into the forests. This is a serious issue and they are destroying the entire forest," said village head Ram Lal.
Read I Gurgaon: Villagers raise concerns over leachate at Bandhwari plant
Environmentalist Vivek Kamboj said, "The MCG is not trying to solve any problem in the city, rather it is making the issue more critical."
The plant was set up in 2007 and started operations in 2008. However, it shut down after a fire broke out in 2013.
Last year, in September, the Haryana State Pollution Control Board and the CPCB revealed that the sample of water collected from the pond near the Bhandwari waste treatment plant was contaminated and the levels of harmful chemicals were above the permissible limit.
Close