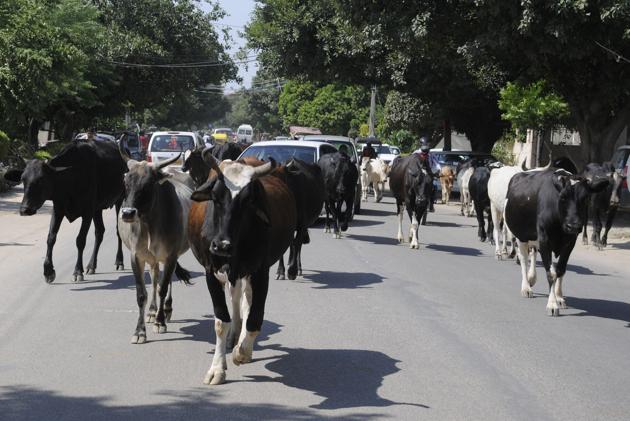 Gurgaon to build shelters for stray cows, state to ban illegal slaughter from May 15
The Gurgaon district administration is in the process of building a cow shelter at Silani where 500 stray cows will be sheltered
UPDATED ON MAY 06, 2017 10:53 PM IST
Even as the state government plans to curb illegal slaughter of animals in the state, the Gurgaon administration has also decided to provide shelter for stray cows.
City authorities have set the target to provide shelter to all stray cows by July 31.
Earlier on Friday, Haryana urban local bodies minister Kavita Jain had said that ban on illegal slaughter of animals and sale of meat in violation of rules would come into effect from May 15. The move, on the lines of the action taken by the UP government, is likely to impact thousands of meat sellers in Haryana.
With the state government having already made known its intent to safeguard the bovine population, the Gurgaon administration has also decided to do its bit to save stray cows.
Gurgaon deputy commissioner Hardeep Singh said that a campaign has been launched to provide health care facilities, tagging, and food and shelter to stray cows. The district administration is also setting up a cow shelter at Silani where 500 hundred additional cows would be given shelter apart from increasing capacity at the Kamdhenu and Nandi cow shed in Gurgaon.
"There are around 1,8000 cows that were identified as stray in the district. But 13,000 such animals have been rehabilitated in registered and unregistered cow shelters in the district. By July 31, the remaining 5,000 cows would also be rehabilitated in shelters," Singh said.
Read I Gurgaon: Cow smuggling cases 'drop' after enforcement of Act
The Gurgaon DC also said that camps are being held at registered cow shelters by the animal husbandry department where vaccination, deworming and other medicines are administered to sick cattle. At present, Gurgaon has eight registered shelters where food, shelter and care is given to stray cows.
On Friday, in a statement issued by the government, Jain said that a ban would be imposed from May 15 and officers have been directed to strictly enforce it. It would be mandatory for owners of meat shops to furnish details regarding the source from where meat was purchased as well as the slaughter house.
It has also been decided that meat would have to be stored in a freezer. Such shops would not be allowed to operate near religious and educational institutions. The department has issued 21-point guidelines in this regard and the officials will ensure compliance with the rules, Jain said.
Close