Gurgaon: Woman dragged out of car, raped on roadside; five men arrested
The Gurgaon Police said the five 'accused' have been produced in court and no weapon was used during the crime.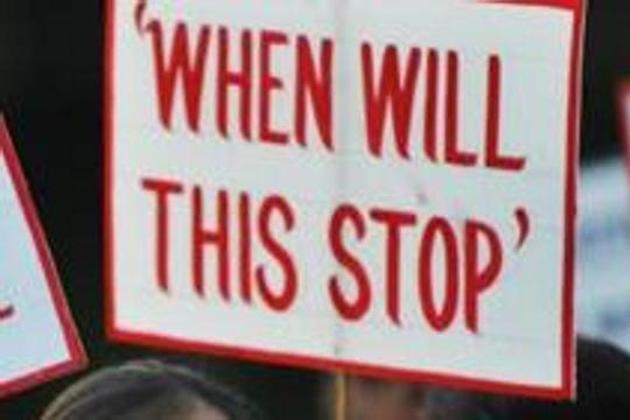 Updated on Jan 23, 2018 04:49 PM IST
The Gurgaon Police has arrested the fifth man involved in a brawl, during which a 22-year-old woman was allegedly dragged out of a car and raped on the roadside in Tigra village, near Golf Course Extension Road, on Sunday, officials said on Tuesday.
"All the five accused have been arrested and produced in court today (Tuesday). The fifth accused Pawan Sharma was arrested from Tigra village late in the night. No weapon was used during the crime," Gurgaon police's spokesperson Ravinder Kumar said.
The other four men, identified as Deshveer, Dharmender, Pawan and Sanjeet, were arrested from Johalka village in Sohna on Monday afternoon.
Police said a case of rape was registered against Sanjeet, a resident of Johalka, and the four others were charged with assaulting the woman's husband and other relatives. They added two vehicles were also seized from the accused.
Kumar said Sanjeet will be taken into police custody for questioning.
The woman told the police in her complaint that the incident took place when she and her family were returning home from Tigra village after visiting her husband's elder brother. The woman belongs to West Bengal and lives with her family in a rented accommodation in Gurgaon.
Her husband's elder brother agreed to drop them back in his car as it was late. They stopped the car in Sector 57, where the woman's husband got down to relieve himself and her nephew went to drink water.
The accused, who were in two cars, stopped and started arguing with her relatives and a fight broke out between them, the woman said.
Sources in the police department said that Sanjeet dragged the woman out of the vehicle as his friends assaulted her relatives. One of the accused asked him to leave her but he dragged her out and raped her, an official close to the investigation said.
"None of the other accused was aware of what he (Sanjeet) was doing and the entire incident happened within a couple of minutes. The accused from Johalka village had come to Tigra to drop Pawan Sharma when the fighting and rape took place," the official said on condition of anonymity as the case is still under investigation.
The accused escaped from the spot in their cars after hearing the siren of a police vehicle approaching. They returned to their village from where the police arrested them on Monday.
The woman's husband managed to note down the number of their cars, which helped the police in nabbing them.
The accused were booked for causing hurt, rape, criminal intimidation, and under other sections of the Indian Penal Code at the Sector 56 police station on Sunday night.
Close Story
Personalise your news feed. Follow trending topics