Gurugram Muslim leaders seek clarity on mosque unsealing
Four days after a mosque was sealed in Sheetla Mata Colony, local Muslim leaders met divisional commissioner D Suresh at his residence on Saturday seeking clarity on the process to unseal the structure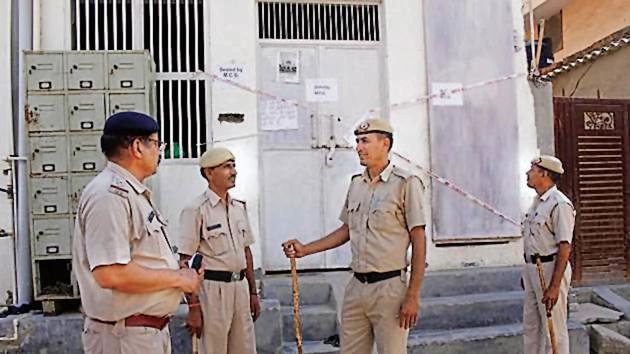 Updated on Sep 16, 2018 04:39 AM IST
Four days after a mosque was sealed in Sheetla Mata Colony, local Muslim leaders met divisional commissioner D Suresh at his residence on Saturday seeking clarity on the process to unseal the structure.
On Friday, reports surfaced that the divisional commissioner had directed the mosque to be unsealed in the evening, though the city administration later released a statement clarifying that no such order was issued.
According to the leaders, they were informed by the divisional commissioner on Saturday that a formal appeal against the sealing by the Municipal Corporation of Gurugram (MCG) can be made in the court of the divisional commissioner, which could pave the way for the mosque to be unsealed.
"After informing us on Friday that mosque will be unsealed, the divisional commissioner informed us that the only way to get it done is by submitting an official appeal in his court. He then informed us that the court would accordingly take a call based on the evidence and finding," said Haji Shehzad Khan, chairman of the Muslim Ekta Manch.
Rahul Roy, a member of the Gurgaon Nagrik Ekta Manch, said that they had gone to meet the divisional commissioner 'as he had informed us that the mosque will be unsealed on Friday evening, but this never took place. Hence, the forum met him for clarity.'
"The divisional commissioner apprised us of the legal hurdles if an order for unsealing is passed. He also said that an internal inquiry has been initiated on the issue. Based on the report, he said that officials will take the next course of action. At present, status quo is being maintained," said Roy.
"We are hoping the issue does not get drawn into a legal hurdle and is solved administratively. Members of the forum and Muslim Ekta Manch leaders are pondering over the next steps that can be taken," said Roy.
Divisional commissioner D Suresh did not respond to the texts and calls for comment.
On Wednesday, MCG officials had sealed the mosque and 10 other buildings in the area, on the grounds that these had been built after the Punjab and Haryana high court, in September 2016, had stayed new construction in the 300-metre radius of the Indian Air Force (IAF) ammunition depot in Sector 14.
On Friday, Gurugram police had detained 12 people affiliated to right-wing outfits under Section 107 (likely to commit breach of peace or public tranquillity) of the CrPC, 1973.
Close Story