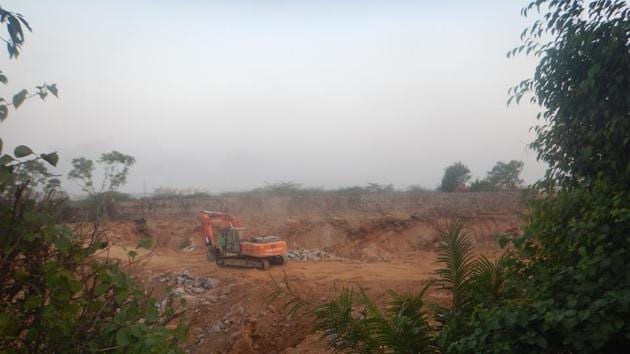 Mining continues in Aravalli forest, claim Gurgaon activists
Environmentalists pointed out that the Supreme Court had banned mining in the region due to its ecologically fragile nature
PUBLISHED ON MAY 02, 2017 10:50 PM IST
Environmentalists in the city on Tuesday alleged that large-scale illegal stone mining is being carried out in two acres on the Surajkund-Badkhal road in Faridabad, which is part of the Aravalli forest.
They said even though a Supreme Court order banned mining in the region due to the ecologically fragile nature of the area, the ground reality is very different.
The affected area falls under the Aravalli gair mumkin pahar (uncultivable land) in Ankhir village. It is about a kilometre from the Delhi border and Asola sanctuary, which is also a natural conservation zone (NCZ), according to the Regional Plan 2021, said Chetan Agarwal, environment analyst.
According to the activists, the mining work started a week ago and already 30 to 40-foot-deep pits have been dug. This in an area where there is a construction limit of 0.5%. Construction is allowed only for purposes such as parks or sanctuaries.
"According to the Supreme Court judgment of May 2002, mining cannot take place within 5km of the Delhi border in Haryana's Aravalli," said SS Oberai, environmentalist.
Vivek Kamboj, another environmental activist, asked how permission was granted for tree felling and stone mining in an area that is in the middle of the Aravalli forest area.
"This is a blatant violation of the Forest Conservation Act. These activities will further create disturbances in the area and result in an increase in man-animal conflict," he said.
However, officials of the town and country planning department said the area did not fall under NCZ and thus permission for construction and tree felling was given by the authority concerned.
"The project has been given permission for tree felling by the forest department. The project is sanctioned and is not an illegal activity. It (the area) comes under Section 4 & 5 of the Punjab Land Preservation Act (PLPA), 1990, where construction is not banned," said Satish Parasher, senior town planner, Municipal Corporation Faridabad.
Earlier, on April 12, residents of Gwal Pahari had written to the deputy commissioner of Gurgaon, complaining about illegal stone mining activity in the Aravalli forest area and urging him to take action.
The residents acted after they spotted more than 50 trucks carrying quarried stones parked along the Gurgaon-Faridabad road for hours.
Close