Model streets need to cater to all road users, not just motor vehicles
As part of the project, the MCG will improve the road quality, built toilets, install CCTV cameras, remove encroachment, etc.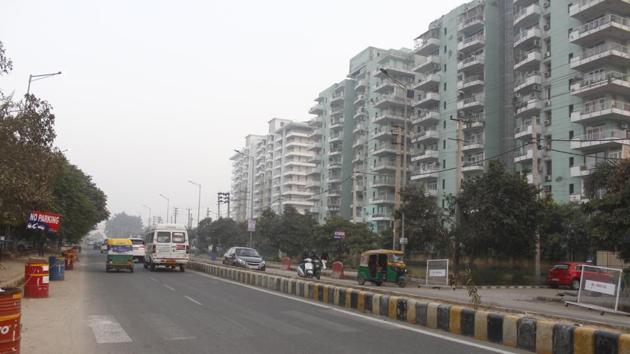 Updated on Mar 20, 2019 07:40 AM IST
Last week, it was reported in media that the Municipal Corporation of Gurugram (MCG) has started the work on converting two busy city roads into "model" roads. The first road is from Hero Honda Chowk to Huda City Centre via Subhash Chowk. The second is the road from Rajiv Chowk to Railway Station. As part of the project, the MCG will improve the road quality, built toilets, install CCTV cameras, remove encroachment, etc. The model roads are expected be pedestrian friendly with good riding quality and ample parking spaces and so on.
The MCG needs to be congratulated for this effort. However, the question is whether doing all this will create a model road? In order to proceed further, we need to first understand what a model road is. Well, a model road is a complete road, a road that caters to all the road users.
For example, a study by Gurugram Metropolitan Development Authority (GMDA) in 2018 on its city bus services points out that within the municipal corporation area, the largest mode of travel is walking (27%), followed by motorised two wheelers (26%), car users (10%) and cyclists (4%). The remaining 33% comprises of people using both formal and informal modes of public transport systems such as autos, taxi, buses, metro and trains. However, if one looks at the roads in the city, 90% of them are for car users who account only for 10% of the population of users.
Therefore, to create a model street, the MCG needs to ensure that three things are done:
Let's first get this right — highways are meant for moving motor vehicles while city roads or streets are meant to move people. Therefore, design of streets is completely different from that of highways. So as we move in the process of creating model roads, we need to make sure that it is designed like a multimodal street. This means allocating space for other modes, especially walking. Therefore, all road segments should be continuous and have walking infrastructure with no breaks or impediments. All footpaths should have a bare minimum width of 1.8 metres in residential areas. In commercial areas, it should be minimum 2.5 metres, preferably closer to 5 metres to accommodate all users. In addition, streets should have additional "buffer space", aside from walking paths, to accommodate trees, utility boxes, bus-stops, etc. The height of footpath should not be more than 15 centimetres and designed to avoid parking on them.
Pedestrians are like water, they tend to find the shortest route to cross. Will water go up and down to cross a road? Surely not. But then why do we expected pedestrians to use foot overbridges and subways for crossing roads? The model roads need to develop pedestrian crossings that are intuitive for people to access. Yes, there may be high speed road that may warrant grade separated facility but those should be the exception and not the rule. In addition, all intersections should have a pedestrian phase, meaning a red signal phase to only allow pedestrian movement. Plus, medians should have a waiting space of at least 1.2 metre x 1.2 metre to aid pedestrians crossing the road. All the crossings should have a wheel chair accessible ramp. The crossing needs to be well lit with pelican signal in mid-block and other pedestrian crossing locations.
By design, streets should be safe, engaging and lively. They should encourage more people to walk. This can be done by encouraging activities and creating porosity on the streets to build natural surveillance. Cafes, restaurants, recreational places, sitting areas, etc, ensure that there are people on the street. This helps create 'eyes on the street' and helps in natural surveillance for improving safety. Similarly, by incorporating placemaking aspects while choosing pavement material, shading, lighting, signage, street furniture, public art, etc, the streets can be made more vibrant. Therefore, it is important to plan the edges of the street in the right manner. Porous edges encourage interaction of pedestrian with surroundings. Activities that run majority of the time during the day should be promoted at street levels while those that have limited use can be shifted to upper levels.
Ask someone about an example of a great city, more often than not you will get an example of a city where people don't depend on private transport for commuting. In most circumstances, in addition to being commuter friendly, the city would also be safe, prosperous, clean and offering a high quality of life. This is because these cities have realised that the returns from investment in creating complete streets far surpass just meeting the mobility needs.
It's time for Gurugram to embrace the philosophy of 'Streets for All', as it kick-starts the process of model road projects.
Close Story