On summer break, kids take a fancy to robotics, programming
A far cry from the days when they were glued to TV on holidays, kids are now getting started on hi-tech activities to face the future.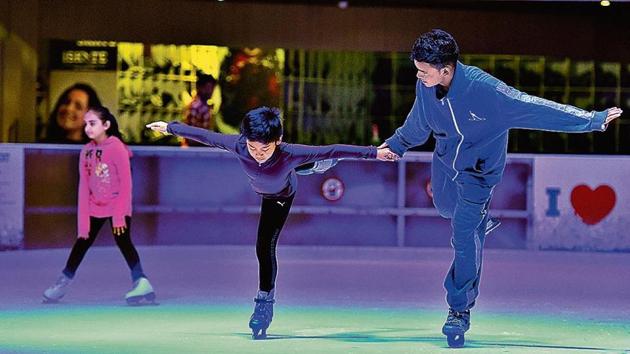 Updated on Jun 10, 2018 09:08 AM IST
Hindustan Times, Gurugram | By Sadia Akhtar
, Gurugram
It's that time of the year that most schoolchildren eagerly await. The heat is unrelenting, schools are closed and vacation is the buzzword. While the mention of holidays elicits a happy reaction from everyone cutting across age barriers, there has been a sea change in the nature of summer activities that children indulge in nowadays.
While parents have chalked out their itinerary to utilise this break from the daily grind of sending their children to schools, the latter have come a long way from the time they stayed indoors glued to the television. They are now being exposed to newer activities at a much younger age. Parents in Gurugram said it's never too early to get started on such activities .
Five-year-old Prateet has a well chalked out schedule for the summer vacation. Once every week, he devotes more than two hours to a session at a robotics academy in the city where he has been enrolled in a beginners' course.
"My son take a keen interest in Lego. So, I got him enrolled in this class. It introduces children to the fundamentals of physics," Aditi Das, Prateet's mother, said.
For children as young as five or six, the academy offers summer courses in science, technology, engineering and mathematics (STEM). It includes courses on robotics, electronics and 3D printing as well.
Das isn't the only parent to have taken a liking to courses on science and technology. Newer ways of learning technology are a major draw among parents in the city.
Ram Kuppuswamy has enrolled his seven-year-old son Raghav Ram in a scratch programming course. Raghav, who was recently promoted to class 3, has learned to make small games using the same. Scratch is a language that was created by the Massachusetts Institute of Technology to help children start programming.
"I had always wanted Raghav to learn Scratch. Programming is a skill that I picked up when I was in class 11 and I don't think that's good enough anymore. Computing has permeated the fabric of what we do so much that it's critical that he picks it up early," Ram said.
Talking about the changing nature of summer vacations, Ram said, "When I was young, summer vacations were about playing with friends, visiting relatives and doing some projects with my parents. My son doesn't have cousins or extended family to visit or plan outings with. But he has a more structured engagement where he is able to play and learn. He also takes football lessons and cricket coaching."
Manas Fuloria is a father of two. Both his eight-year-old son Ekagra and five-year-old daughter Tarini are enrolled in recreational mathematics classes. He got his children enrolled in the classes to give them a different perspective on the subject.
"In these classes, maths is not about addition and multiplication in its traditional sense. Mathematics here is presented as a description of reality and is looked at from the perspective of puzzles and games which makes it very interesting. It's an unusual perspective that even a short summer camp can provide," Fuloria said.
Fuloria's son said that he has started enjoying mathematics more after attending these classes.
"These classes have helped me improve my logical understanding of concepts," Ekagra said.
Fuloria is of the opinion that enrolling children in these summer courses doesn't necessarily mean that they do not understand the concepts that are taught in school or don't study at home. "It's important for children to look at different subjects in different ways when they are young," he said.
Shilpa, a mother of two in DLF Phase 5, said, "My daughters are taking classes in robotics with few STEM activities. They are studying things like early machines and aerospace engineering. In addition to that, they will soon start classes in coding," Shilpa said.
Child psychology experts, however, raised concerns about the mental health of children who are exposed to these classes at an impressionable age. "I don't think children are ready to take up these higher order skills at such a young age," Geetanjali Kumar, a parental coach, said.
Samir Parikh , a psychiatrist, said, "The activity that the child is made to do should be age-appropriate. There shouldn't be any goal-setting pressure."
Close Story