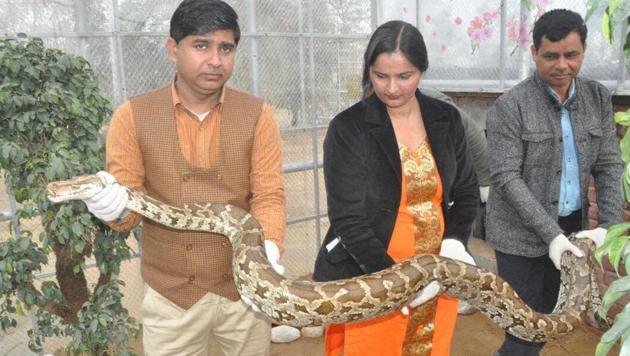 Rescued pneumonic python recovers, but still kept in quarantine as precautionary measure
The decision was taken as this is a serious disease in snakes and may cause death if not treated timely. It is also contagious, so the infected reptiles have to be isolated from others.
PUBLISHED ON APR 01, 2018 11:45 PM IST
Veterinary doctors with the wildlife department have decided to continue to keep a 14-year-old Indian rock python in isolation. It was rescued from the Aravallis last month by the Gurgaon wildlife team, and was diagnosed with pneumonia.
The 12-foot-long python, weighing 15kg, was unwell when it was found. He was prescribed medical treatment for 25 days. The reptile is now reportedly healthy. He was brought to the Aravallis in Gurgaon to be released on Sunday, but since pneumonia is contagious in reptiles, he will be kept under observation for another month at the Rohtak Zoo—the only animal facility in the state that has a treatment room.
"Snakes with pneumonia have to be treated aggressively and quickly. This is a serious disease in snakes and may cause death if not treated timely. It is also contagious, so they have to be isolated from other reptiles," said
Dr Ashok Khasa, veterinary surgeon, Gurgaon forest department.
A pythons's life expectancy is 30 years.
Wildlife official said this was the first time in Haryana that a male python has been nebulised for treatment and has recovered from illness.
"We were on night patrol when we rescued the python. He was breathing with great difficulty. He was anorexic and was resting with his head elevated. Also, he was spotted rubbing his nose on the stone to clear the discharge from his nostrils; he had difficulty breathing and was gasping for air. Bubbles were forming around its nose, and he was restless," Dr Khasa said, adding that the python was first taken to the Sultanpur National Park and later to the Rohtak Zoo, where there is a treatment room.
According to the wildlife officials, the reptile was given medicines through a nebulizer for 22 days. Since he was very weak when he was rescued, the officials treating him ensured that he was given a proper diet along with the treatment.
On Saturday, when his movement was found normal, he was given five chickens.
The team of doctors brought him to Sultanpur National Park to release in the Aravallis, but decided to keep him in the Rohtak Zoo for observation for another month.
"We are shifting him to the Zoo (from Gurgaon) on Monday. He will be kept under medical observation for another month," Dr Khasa said.
Close