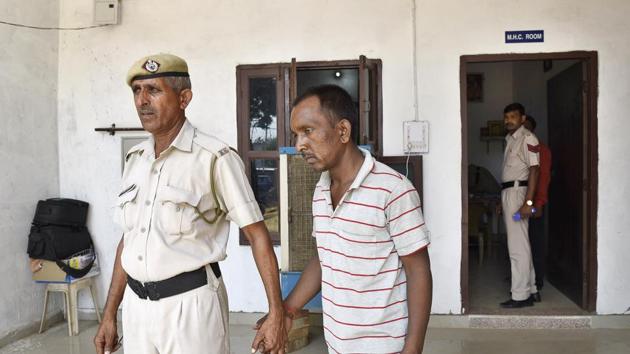 Ryan murder: School didn't follow security rules, failed to check conductor's background
Agitated parents of students in Gurgaon schools said the police had also failed to take action against schools violating school safety guidelines.
UPDATED ON SEP 10, 2017 12:22 AM IST
Compliance of School Security Guidelines issued by the police in September 2014 could have averted the tragic murder of an eight-year-old class 2 student at Ryan International School, Bhondsi.
The guidelines make it mandatory for a school to check the background of its employees before hiring them for part-time or full-time jobs. Police sources said the school did not carry out any verification of bus conductor Ashok Kumar, 42, who has been accused of killing the boy in the school toilet after a failed sexual assault attempt.
Police investigation revealed that Kumar was fired from his job at a private school in his village Ghamroj because of his suspicious behaviour.
Agitated parents of students in Gurgaon schools said the police had also failed to take action against schools violating school safety guidelines.
Police have yet not invoked any section of negligence against Ryan International School, Bhondsi, even though no attendant was deployed outside the toilet.
Parents alleged that in violation of Section 2.2.5 of school security guidelines, the school toilet in which the murder took place was shared by students, bus drivers, conductors and class 4 staff.
They said that only after any such incident, the police conduct an audit, but later there are no regular checks on the school operations.
On May 9, 2016, Jiya Juneja, a seven-year-old class 3 student of Ryan International School, Sector 40, was hit by a speeding car after her school bus dropped her on the wrong side of the road. Shockingly, there was no conductor or attendant in the school bus and there was no action taken against the school.
"After the last year incident, transport safety audits were revisited and then finally in July this year, we saw many schools getting the yellow buses with some checks. But again everything is back to square 1 and now many school buses don't even have school names or emergency contacts details on them," said Ruchika Sethi Takkar, a volunteer for formulating the school safety guidelines.
Some parents said there should be zero tolerance for non-compliance with child safety guidelines. "It should be mandatory for schools to announce on their websites and publish adverts in newspapers specifying concrete steps taken by the management and staff to ensure the safety of each and every child," said Sudha Nair parent of two girls and an educator.
Parents said there are still many gaps in the process and police need to take strict action against the violation of these safety guidelines for all schoolchildren.
"The administration should take responsibility of the students studying in the school now as there are many lapses in the safety and security aspects. Parents are scared to send their ward to a school, where the staff is a criminal and was hired without any verification," said Tripti Singh, administrator of the Facebook forum, Gurgaon Parents for Better Education.
Meanwhile, Gurgaon police commissioner Sandeep Khirwar said, "We are examining all the angles of the case and will surely take action against the school once we are done with the investigations. Those who will be found guilty will be booked."
Seema Lal, a parent and child right activist, said that abuse and such crimes happen in the absence of Child Protection Policy.
"Schools are meant to be safe havens of learning. However, in today's world, forget learning, parents have to worry about physical and psychological trauma in the classroom, bullying and now murder," said Dr Raju Parasher, parent of a school-going child.
Guidelines violated by Ryan International School
Section 2.2.1: There should be only one entry/exit point to the premises, side gates are to be avoided. In case there is a side gate, this must be manned by a security guard maintain a record of every entry and exit in a register
Section 2.2.3: Administration/security department must draw up a list of restricted areas and names of persons permitted entry, and these must be displayed on an internal notice board on the premises
Section 2.2.5: Specifically for bus drivers and conductors, whether employed by the school or contracted out, access area must be limited to just the bus area and specific instructions must be given to them on which areas are out of bound for them. It is therefore suggested that a toilet is provided in this area or other such clearly specified area with visible though secluded access, to prevent need for such persons to enter the actual school premises
Close