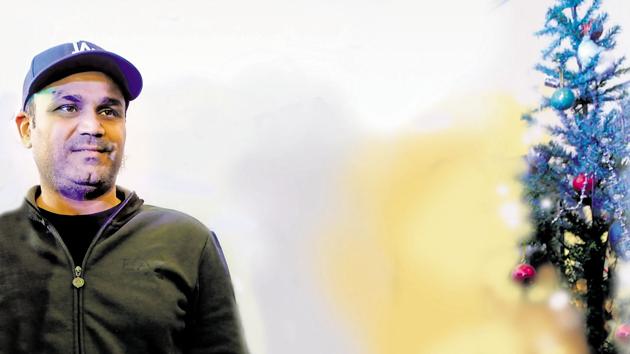 When Virender Sehwag became Secret Santa for underprivileged children
The cricketer became a Santa for several kids when he visited the Rapid Metro Sikanderpur metro station ahead of Christmas as part of an initiative, wherein he donated gifts and urged people to do the same.
PUBLISHED ON DEC 24, 2016 07:50 PM IST
Cricketer Virender Sehwag is not just a Santa to his own kids, but to many other children too. On Thursday, he visited Rapid Metro Sikandepur station as part of a be-a-Santa initiative at the station, when he donated gifts and goodies for underprivileged kids, which will be distributed to various city NGOs. Sehwag also urged people to contribute wholeheartedly and bring a smile to the underprivileged children's faces, this Christmas.
Speaking on lending support to the initiative, Sehwag in his inimitable style, says, "Bahut kam log hai jo pyaar phaila rahe hai, zyadatar log shikayetein phailate hai. Aaj yeh ho raha, woh ho raha hai, bank mein note nahi mil rahe hai, line lambi mil rahi hai.(There are a very few who are spreading love. Often people just complain. Of late, it's been about long queues and no currency.)"
He adds, "I become a Santa for my kids too. The best thing is to bring a smile to somebody's face. We are trying to bring about a change. With your help, these toys will reach the kids who might have never had the opportunity to play with them. Their happiness will be beyond words.
For the kids it was truly a dream come true experience. "I am very happy to receive gifts from Sehwag sir. He is truly our Santa. My dream was fulfilled to meet him," said Bushra.
Here's your opportunity to become a Secret Santa and bring a smile to many a faces this Christmas as the donation boxes are stationed at Rapid Metro stations — Phase3, Induslnd Bank Cyber City, Vodafone Belvedere Towers and Sikanderpur Rapid Metro Station till December 31.
Close