Gurugram shooter mentally sound, motive still unclear
Updated on Oct 15, 2018 09:24 AM IST
On Saturday, Mahipal Singh who had taken Ritu Garg and Dhruv for shopping, allegedly shot them near Arcadia market in Gurugram's Sector 49, and escaped in the judge's car, as people looked on.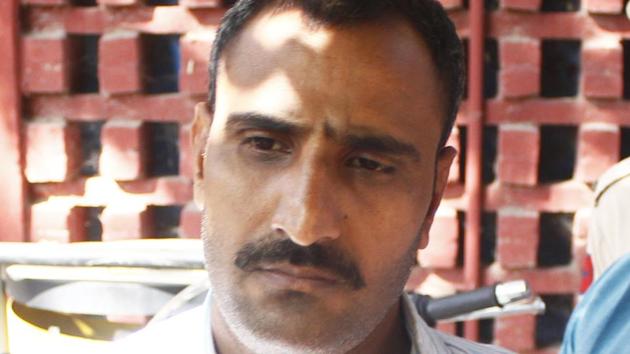 Hindustan Times, Gurugram |
Leena Dhankar and Nikhil M Babu
A day after the wife of an additional sessions judge died and their son has been struggling for his life after being allegedly shot by their personal security officer (PSO), motive behind the shooting was still not completely clear, police said on Sunday.
Meanwhile, the accused Mahipal Singh, 32, a head constable, who was arrested on Saturday evening was terminated from the police department and sent to police custody for four days by a city court on Sunday, Subhash Boken, spokesperson of Gurugram police.
"Due to the sensational crime, the accused has been terminated from the police department under Article 311 (2) of the Indian Constitution," said Boken. Boken said the mental condition of the accused seemed stable and reports of his being mentally unstable were just rumours.
On Saturday, Singh who had taken Ritu Garg (38) and Dhruv (18) for shopping, allegedly shot them near Arcadia market in Gurugram's Sector 49, and escaped in the judge's car, as people looked on.
Later, he called up the judge, Krishan Kant and told him that he had shot them. He was arrested from Gurugram-Faridabad road about two hours later.
During interrogation, Singh said Ritu and Dhruv were "devils" and that was why he had shot them, deputy commissioner of police (crime) Sumit Kuhar.
"When police asked why he was terming them as devil, Singh said devil means dirty people. He was aggressive during initial hours of interrogation," the DCP said.
According to the FIR filed on Saturday late night based on the judge's statement, Dhruv had asked for the keys to the car, after he came back from shopping and Singh got angry about it.
Singh shouted at the duo and without any provocation fired at Ritu and later at Dhruv who came to rescue her, the FIR said.
Police has formed a Special investigation team headed by DCP Sulochna Gajraj to probe the incident.
Meanwhile, Ritu's autopsy was done by a board of doctors on Sunday morning.
"She died due to excessive bleeding. There was one fatal bullet injury on right side of the chest," said Dr. Deepak Mathur, one of the three doctors who conducted the post-mortem.
The accused told police during interrogation that he was ill treated by Dhruv, who used to make him do personal errands, Kuhar said.
"The accused and his wife often used to fight and had estranged relationship for last two years. He had phoned his mother too after he shot Ritu and Dhruv,"?he said.
The accused told police that the judge's family used to make him clean faeces of their dog, a police officer privy to the case said.
" He said that 'There is no difference between a cop and a dog'," the officer, said.
A case under section 307 of the India Penal Code?(Attempt to murder) and section 27 of the Arms Act was registered at Sector 50 police station.
Police deny entry to accused's flat
At flat number '601' on the sixth floor of Tower B in Police Lines, a government society for police officers in Gurugram, there were at least six police officers who denied anyone from meeting the family of the accused.
"We have orders from our senior officers not to allow anyone to meet the family," said one of the officers on duty. "How can you, a male, come to a house where there is only woman?" asked another female police officer who was on civil dress.
Finally, police opened the door after multiple requests and the mother of the accused, while still inside the house, said she has nothing to talk and the door was closed immediately by police officers who were on duty.
Singh lived with his wife, two daughters and mother and his wife is a writer and a few of her songs are also popular on YouTube.
Personalise your news feed. Follow trending topics