Worker comes into contact with machine at Manesar plant, dies
Apr 06, 2017 11:26 PM IST
The management announced Rs 8 lakh compensation to his wife, Rs 3 lakh for his daughter's wedding and Rs 5,000 per month for the minor son till he attains the age of 21. The worker will also get all the benefits as per his ESI claims
A worker died after coming into contact with a machine early Thursday morning at a factory in Manesar leading to resentment among workers. The incident happened when worker Shatrughan Prasad, 37, came into danger zone of the running machine. He was declared dead by doctors at a local hospital. He is survived by wife, a minor son and daughter.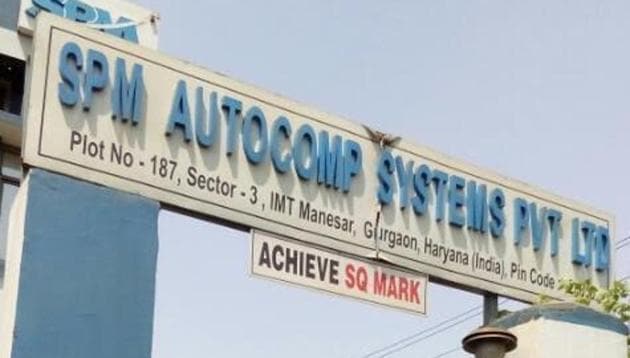 The management of the company, SPM Autocomp Systems Private Limited, which supplies parts to several big companies, shut the plant soon after the incident at 5am. The police and officials of the district labour department reached the spot and it took five hours to resolve the issue.
Later, the company management announced compensation to the family.
Ramesh Ahuja, assistant labour commissioner (ALC), Manesar, said, "The management announced Rs 8 lakh compensation to his wife, Rs 3 lakh for his daughter's wedding and Rs 5,000 per month for the minor son till he attains the age of 21. The worker will also get all the benefits as per his ESI claims. The company announced the compensation on humanitarian grounds and for maintaining a healthy atmosphere in the factory. The management on its own shut the plant after incident."
Shatrughan Prasad was working with the SPM for the past five years.
Kuldeep Singh Jhangu, general secretary, Maruti Udyog Kamgaar Union, said, "Safety of workers always has been a big issue. I have spoken with the Spm workers' union after the incident. The matter has been resolved. I want the technical wing of the district labour department to investigate how he came to be in danger zone of the machine. There should be a system to prevent such incidents but, unfortunately, most factories in Manesar do not have it."
An officer at Manesar police station said, "We are investigating the incident and complaints will be lodged soon. The company has done its job by announcing compensation and the police will do their own investigation."