6 ways of cutting down the risk of Parkinson's disease
Diet, aerobic exercise and reducing stress can lessen the chances of getting Parkinson's.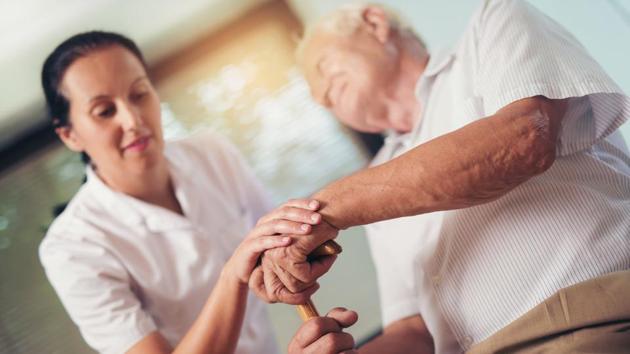 Updated on Aug 18, 2018 09:18 AM IST
Hindustan Times, Delhi |
Kabir Bhandari
Parkinson's disease (PD) is a common, chronic degenerative disorder of the central nervous system affecting about 10 million people in the world. PD is a disabling disease and affects mobility and locomotion.
It is possible to prevent the risk of acquiring this condition through the following ways.
Diet: "Adequate consumption of greens, vegetables, fruits, proteins, vitamins and anti-oxidants, with reduced carbohydrates help cutting down on the risk of Parkinson's," says Bangalore based Dr Udaya Kumar Maiya, who is the medical director for the app Portea Medical.
Get more vitamin D3: Studies have found that many of those with early Parkinson's are deficient in vitamin D. Get more of this sunshine vitamin through sources such as mushroom and egg yolk. Alternately, one can also get about 15 to 30 minutes of daily exposure to sunlight for vitamin D.
Eat fresh, raw vegetables: "These contain the B vitamin folic acid which is thought to prevent the onset of PD. Some good sources include dark green leafy vegetables avocado, legumes and lentils," says Dr Udaya.
Increase intake of omega-3 fatty acids: Parkinson's is an inflammatory disease and omega-3 fatty acids are known for their anti-inflammatory effect. They prevent cell degeneration and death. Some sources include fatty fish such as salmon, eggs, and walnuts.
Green tea: "Green tea contains antioxidants called catechins which eliminate free radicals in the body and prevent inflammation. Certain compounds in green tea also have positive effects on the brain's neural network," explains Bangalore based Dr Ramananda Srikantiah Nadig, who is head of the clinical advisory board of the health service, healthi.
Regular aerobic exercise: By improving circulation, aerobic exercise can prevent inflammation in the brain. Regular-to-moderate aerobic exercise can also improve a person's overall cognitive health.
Along with these, there are various other steps which can be taken for preventing Parkinson's disease such as exercise, getting enough sleep, preventing stress and maintaining good overall health.
Follow @htlifeandstyle for more
Close Story