BAFTA 2016: Leonardo DiCaprio's kiss with Maggie Smith is adorable
A huge smooch for Dame Maggie Smith, that's how Leonardo DiCaprio celebrated his first-ever win at BAFTA. With Leonardo sweeping all awards for The Revenant, Oscar is more or less a cert now.
hollywood
Updated: Feb 15, 2016 15:55 IST
Leonardo DiCaprio prefers supermodels but at BAFTA, it was Dame Maggie Smith who had his attention. DiCaprio won his first-ever BAFTA award in the best actor category for The Revenant and was buzzing with goodwill.
As the award host Stephen Fry turned on the playful Kiss Cam at Leo and veteran actor Maggie Smith on the award nite, which took place on Valentine's Day, they both were game. DiCaprio placed a huge kiss on the beloved Harry Potter star and she responded with a fond hug.
The Leo-Maggie kiss...
Leo and Maggie Smith's kiss at the BAFTA kiss cam is the highlight of my life pic.twitter.com/EVOd56gPfz

— ㅤ (@ClNEMAH) February 15, 2016
DiCaprio and Maggie, who are up for the Best Actor and Best Actress gongs respectively, were seated next to each other. The UK film industry also showered Valentine's Day love on The Revenant, awarding the endurance epic five prizes, including best picture and best actor, at the British Academy Film Awards.
Read: All about BAFTA 2016
DiCaprio cemented his Oscar-favorite status by taking the best-actor trophy for playing a bear-battling fur trapper in a brutally wild American West. Alejandro G. Inarritu was named best director for what he called a "human and tender story," and The Revenant also won prizes for cinematography and sound.
Others who kissed for the cam...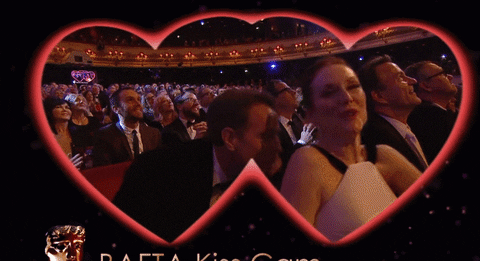 DiCaprio, who has been nominated three times before at the British awards without winning, said in his acceptance speech that he was "absolutely humbled" to beat The Martian star Matt Damon, Trumbo's Bryan Cranston, Michael Fassbender for Steve Jobs, and Eddie Redmayne for The Danish Girl.
He cited the influence on his work of British actors including Tom Courtney, Peter O'Toole, Daniel Day Lewis and his Revenant co-star Tom Hardy, and sent thanks and greetings to his mother, whose birthday fell on Sunday.
And those who didn't...
Loving the #EEBAFTAs Kiss Cam. Michael Fassbender having none of it @LancomeUK pic.twitter.com/86zG9P7eeY

— Debbie O'Donnell (@debbie_odonnell) February 14, 2016
The British awards, known as BAFTAs, are considered a portent of success at Hollywood's Feb. 28 Academy Awards. The Revenant has earned DiCaprio his sixth Oscar nomination - and, many believe, his best shot at finally winning.
The one and only @LeoDiCaprio wins the Leading Actor award, his first BAFTA, for @RevenantMovie! pic.twitter.com/IQqK88Vt2i

— BAFTA (@BAFTA) February 14, 2016
DiCaprio said it was out of his hands, but expressed pride in what he called "not just a film, but an epic journey we all went on."
"We put our heart and soul into this movie ... It's up to the world now and voters to decide," he said at a post-ceremony news conference.
Read: The curse of Leonardo DiCaprio
Talking about his first-ever win, he said, "I grew up in this industry. Ironically I felt very detached from it even though I lived in East LA, in Hollywood. I always felt like it was this distant thing that I couldn't touch. So to have worked in this industry ever since I was 13 years old, having done 20 some odd movies, to be here now, and have it be for a film like this that we've worked so very hard on really feels amazing."
Asked about his Titanic co-star and close friend Kate Winslet, who also took home a trophy for best supporting actress, he said: "Kate's my home girl."