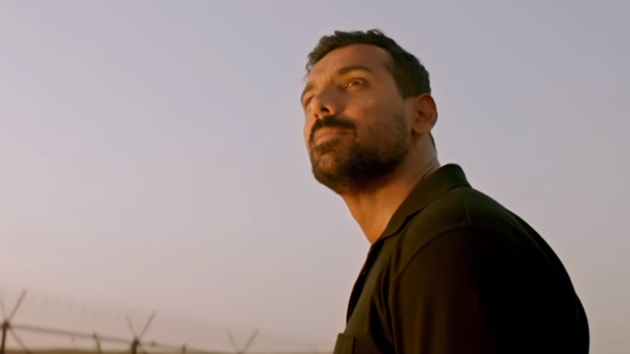 Releasing Parmanu is like giving birth, says actor-producer John Abraham
Calling himself a "self-confessed workaholic", John Abraham says he hasn't "taken a holiday in the longest time" but he isn't complaining.
UPDATED ON MAY 21, 2018 11:36 AM IST
Not just on the sets, he has fought his way through off the sets as well in the Bombay High Court vis-à-vis the release of his next, Parmanu: The Story of Pokhran. "It's like I will be giving birth to my child on May 25," says actor-producer John Abraham with a laugh as he talks about the film which is based on the true story of how India conducted nuclear tests at Pokhran in 1998. Incidentally, 2018 will also see him completing 15 years in Bollywood. We catch up with him about life, career and more.
To start with, this year, you complete 15 years in the industry. How has it been?
At the end of the day, you must have self-conviction as there are enough people around you to tell you that you are probably not worth it. But you have to tell yourself that you are worth it. Fortunately for me, my audience also stood by me through thick and thin. With a few people in the trade, my audience, and conviction in myself, I have reached here and from here it's only going to get stronger and better. I am very excited about the remainder of my journey and I know I will get better, fitter, faster and stronger. That's what excites me because I know my line-up now. At the risk of sounding boastful, I can say I have got a very strong line up.
Talking of line-up, your next, Parmanu looks like a tough film…
Absolutely! My director Abhishek Sharma and I wanted to shoot the film in a way that gives the feel of the time period when the actual tests happened. So, we went for recce in May last year, and started shooting from May 31. We worked in temperatures ranging from 50-52 degrees and sometimes even 55 degrees, and that too under lights. Abhishek and I wanted to shoot in that atmosphere and ecosystem as we really wanted to go through the process and the entire credit goes to all my cast and crew. They all stood by me and in fact, we finished this film two days ahead of our schedule. So, it's been a great and fantastic experience.
Also, what's your state of mind now after having gone through all the legal troubles with the film?
I am happy and relieved. Of course, I'm also thankful to the honourable high court as well as Justice SJ Kathawalla for validating what I have gone through. But at the end of the day, there's no point slinging mud in public. Parmanu is a very credible film. For us, all our stars were burning bright because the court passed a judgement on the May 10, and we launched the trailer the next day at 3.45pm, which is the exact time and day that the tests happened 20 years ago. So, somehow everything seems to have fallen into place and we are all excited.
Personally, as an Indian citizen, what are your memories of the Pokhran tests?
Honestly, I want every youngster to watch this film. I am confident that we will have a senior audience, who will see it but I want every youngster, who feels that it's cool to be Indian to know that it's all because of what happened on May 11, 1998. We often misconstrue a nuclear test with just a bomb but India wanted to be a self-sustaining nuclear power nation that would take care of its own electricity and energy etc. We were dissuaded by the United States of America in 1995 and they threatened to put sanctions on us, but we knew what was best for us, so we went ahead with tests.
After having seen heights of stardom and success, what keeps you going?
My motorcycles (laughs). But jokes apart, what excites me the most is playing a different character every six months. It's very easy to play myself in every film, but when I play an Ashwath Raina in Parmanu, or a Veer in Satyamev Jayate, multiple parts in RAW and then someone else in another film; it makes me wake up every morning with excitement. I would die if I wasn't working. I need to work 24/7. I am a self-confessed workaholic. I haven't taken a holiday in the longest time and sometimes, it does take a toll but at the end of the day, I love my work.
You have done films such as Dhoom (2004), Garam Masala (2005) and Dostana (2008). Do you miss doing lighter and easier parts?
I love commercial parts as I am a big fan of commercial cinema. Golmaal 3 (2010) is one of my favourite films. I also I love Dhamaal (2007), and my films Housefull 2 (2012), Welcome Back (2015) and Garam Masala. I think it's important to do hard-core commercial cinema as well, and I will do it. I don't know whether I will produce them but as an actor, I will give that version of myself to audiences. If people loved Shootout At Wadala (2013), Satyamev Jayate is 'Shootout on steroids (laughs)'. It's crazy and I really enjoy that space.
Since Parmanu is based on a true story that made India proud, makers are set to host a Parmanu Pride Parade, on May 22 in Connaught Place in New Delhi. Led by John and Diana Penty, it will salute the contributions and the joint efforts of the Indian army, scientists, intelligence agencies and bureaucrats, who came together to make India a nuclear superpower in 1998. "As opposed to the notion of people coming on streets only for protests or appeals, for once, John and his film's team want India to walk the streets for the simple reason of being proud of our nation. John will appeal to everyone especially the youth of the country, to be a part of this parade through his social media handles," says an insider.
What made you pick up such a challenging subject (Parmanu) in the first place?
Abhishek and I always wanted to work together. One day, he came to the office and narrated a 12-pager to me which I loved. We both wondered as to why this story was never made into a film. Then, we developed the film in-house with my screenplay writers, Saiwyn Quadros and Sanyukta Chawla Shaikh. We worked together and within a span of three months, the script was ready and then we started shooting.
What was your idea behind it?
Firstly, I didn't want to make a patriotic or a jingoistic film. The idea was to make a film like Argo (2012), a commercially entertaining, engrossing and edge-of-the-seat thriller. The film completely holds you but at the end of the day, you walk out [of theatres] with tears in your eyes and proud of being an Indian. That sense of patriotism is a by-product.
Are you also relieved about the film's release as the release date got pushed a couple of times?
Actually, we started shooting Parmanu on June 1, so the film took less than a year to release. Technically, it's not delayed. The perception of delay has been built because of the December and February release announcements but I wasn't a party to either [of those announcements], so I don't know why they were made. Yes, we announced March 2 and that's when certain problems vis-à-vis cash flow started. But finally, we have got a fantastic date.
At this stage of, how satisfied are you?
There's a huge sense of pride. It's like Parmanu is my child, and I will be giving birth to it on the May 25. I feel very proud to be the parent of this child as I have fought for its custody. So right now, there's a sense of elation, relief, vindication, validation and everything rolled into one. On the last day of shoot, I felt really happy and relieved that we have pulled off one of the toughest shoots but I can't take any credit as its all thanks to my cast and crew.
Over the last 15 years, have you become more confident?
Yes, I am far more confident as an actor today. I know the nuances of what works for me and what works with audiences. I love that I kind of understand that space but it's still always a learning process. I feel safeguarded as an actor, more so with my production house as I know that the stuff my production house curates is well-researched, so that gives me a safety net. As a producer, I feel a sense of empowerment and I believe in doing credible cinema. As an actor and producer, I've matured and I love my space and journey right now.
When is a film on the lines of Welcome Back or Garam Masala coming up?
I would love to [do a film like that]. I am a big fan of directors like Anees Bazmee, David Dhawan and Sajid Khan; and I love their cinema also. On one hand, there is a producer side of me that makes a particular kind of films but as an actor I want to go all out and enjoy myself. I feel if one puts me in a commercial role, I will crack it and so, I want to do those fun films. Having said that, Parmanu is also very commercial with great songs etc. The only difference is it has married a lot of commerce with content.
After having done films such as No Smoking (2007), Madras Cafe (2013) and Parmanu, do you feel happy that you have shut people up who – at the start of your career– questioned your acting abilities?
I don't work to prove anything to anyone. The so-called people who said such things at that point, and the kind of cinema they did then with their performances and expressions, is considered overacting today. So, suddenly what I am doing, with the subtlety in my performances, is looked at as fantastic. I feel there is a phase for everything. Now, I wonder if there is a market for those over-expressive, loud performers, who felt that they were good actors. Thankfully, half of them are married now.
Follow @htshowbiz for more
Close