This Avengers 4 fan theory suggests this unlikely character will be key to defeating Thanos
Updated on Nov 27, 2018 08:13 PM IST
A fan theory on Reddit suggests that Dr Erik Selvig who was seen in Thor: The Dark World will play a big role in defeating Thanos in Avengers 4.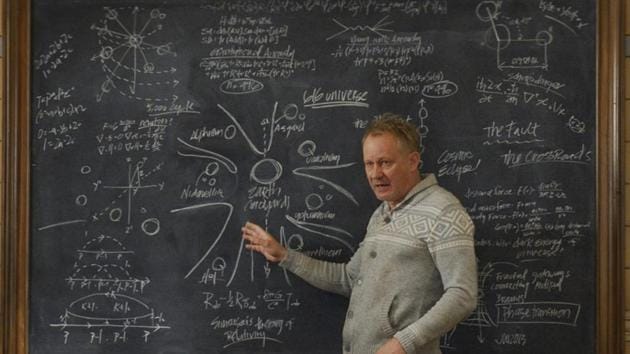 Hindustan Times |
HT Correspondent
Many a fan theories about time travel have surfaced in the run up to the release of the final Avengers film. The end to Marvel's current phase of film, Avengers 4 has fans waiting for the trailer - which is ready to drop any day now - with bated breath. This combined with Joe and Anthony Russo's Question and Answer session after a special screening of Avengers: Infinity War has only increased the excitement surrounding Avengers 4.
At this time, under the /r/MarvelStudios subreddit, a fan theory throws light on how Erik Selvig from Thor: The Dark World is the key to defeating Thanos.
A detailed post explains how Erik Selvig's chalkboard from Thor: The Dark World is a result of Mind Stone that gave him an immense amount of information. The power was given to him by Loki when he had Erik under his control in order for him to build the portal during the Battle of New York in Avengers. The information he had access to, however, did not help his mind and resulted in his notations on the chalkboard. The theory also points out how the board hints at phase transition, which was featured in Antman and The Wasp; 616 universe, which hints at Erik's prior knowledge about multiverse.
The most important detail that could play a big role in defeating Thanos in Avengers 4 is about the Fractal Gateways Connecting Mutipal Branes. This is a reference to interdimensional travel through the quantum realm.
The reddit thread explains, "Perhaps the tech used to "Phase Transit" is combined with other MCU tech to travel between dimensions AND through time simultaneously, perhaps by using Ant-Man's suit with the Binary Augmented Retro Framing tech and a powerful energy source such as an arc reactor. Particularly if this all took place in a location like Sakaar."
The redditor u/mushbert also pointed out how Schrödinger's cat, a theory about a thought experiment, noted on the chalkboard could be a reference "to the 50% of people who were dusted following the snap, they are not quite alive but not quite dead? Perhaps stuck inside the soul stone in a state of limbo."
Follow @htshowbiz for more
Personalise your news feed. Follow trending topics