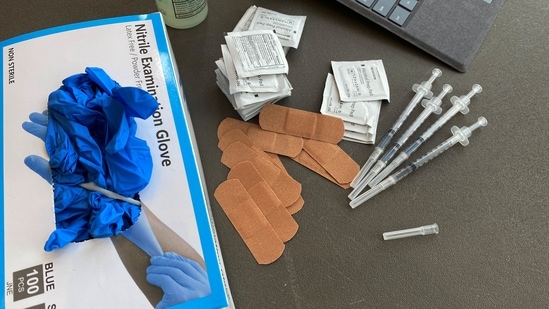 The dynamics of vaccine diplomacy in India's neighbourhood
The study has been authored by Sohini Bose.
By Observer Research Foundation
PUBLISHED ON JUL 24, 2021 03:48 PM IST
In early 2021, India—driven by its 'Neighbourhood First' policy and in its understanding of its role as the 'net security provider' of the region— began providing Covid-19 vaccines on a priority basis to its immediate neighbours. Between January and April, India either sold or granted a total of 19,542,000 vaccine doses to countries in the region, until it stopped further exports in late April when it became clear that the second wave of the pandemic was going to be far more severe than the first one in 2020. Today, at the time of writing this report, a significant volume of vaccines purchased from India by some of these near-neighbours remains undelivered. Moreover, the promise of the Quad countries "to expand and accelerate production [of vaccines] in India" for the Indo-Pacific remains unfulfilled.
India's neighbours have thus been compelled to find alternative sources for their vaccine requirements. Seeing an opportunity to exert their soft power while helping mitigate a humanitarian crisis, China and Russia are filling the gaps. This special report examines the dynamics of vaccine diplomacy in India's neighbourhood. In five sections, the report explores the state of the countries' vaccine rollout, the gaps in supply that either China or Russia is bridging as India halted vaccine supply, and the implications of such efforts on the bigger geostrategic picture across India's near-neighbourhood. In her essay on Bangladesh—often referred to as India's "closest alliance" in the neighbourhood, Sohini Bose highlights the diplomatic challenges it faces in balancing the strategic underpinnings of the vaccine assistance it receives.
Sohini Nayak focuses on the Himalayan countries in India's northern neighbourhood, especially Nepal and Bhutan. This report uses the word 'neighbourhood' or 'region' to refer to Bangladesh, Nepal, Bhutan, Myanmar, Thailand, Sri Lanka, Pakistan and Afghanistan. The Quad is a grouping of India, the United States (US), Australia and Japan, aimed at maintaining a rules-based order, and a free, open and inclusive Indo-Pacific, as a force for 'global good'. In the third piece, on India's Southeast Asian neighbours, Sreeparna Banerjee illustrates the domestic turmoil in Myanmar and the challenges facing Thailand's government as the country suffers vaccine shortages, and China's assistance to both countries.
Bringing perspectives of the island-nations in India's southern neighbourhood, Vinitha Revi discusses how Sri Lanka and Maldives are faring in their quest for alternative sources of vaccines. Lastly, pondering the situation in India's western front, Saaransh Mishra explores how the dearth of vaccines in Afghanistan gives interested powers an opportunity to gain a foothold in the country; he outlines the strategic stance of Pakistan, as the only country in India's near-neighbourhood to not have been a recipient of India's vaccine outreach.
You can access the full story here
(The study has been authored by Sohini Bose)
Close