'Make in India' in defence: Push hard for the pull factor
Selectively granting majority ownership to foreign firms will operationalise 'Make in India' in defence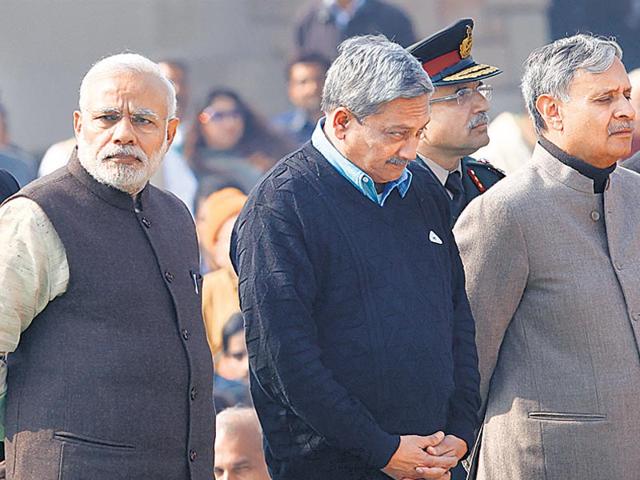 Updated on May 27, 2015 09:00 AM IST
India sits at the top of arms-buying countries, ahead of Saudi Arabia, with a 15% share of global imports. This is the finding of the Stockholm International Peace Research Institute, which has covered a five-year period up to 2014 and the finding is based on deliveries than the value of orders. On quite a few occasions, Prime Minister Narendra Modi and defence minister Manohar Parrikar have shown uneasiness over the country's import of well over 60% of its arms procurement. No wonder defence automatically finds pride of place in Modi's much-hyped but highly relevant 'Make in India' programme for the economy and employment generation.
For beefing up our border and homeland security and modernisation of the army, still carrying the baggage of the Soviet Union era, India will perforce stay a big buyer of arms. Military hardware and software procurement will, therefore, be a big enticement for the arms establishment in the US, Europe, Israel and Russia. New Delhi wants to take advantage of this to make the best of offset policy, first introduced in 2005 and then revised on a few occasions to support the growth of indigenous defence manufacturing. Offset, as it is now, requires procurement from domestic sources of at least 30% of the capital acquisition cost of defence orders worth Rs 300 crore or more. The Defence Acquisition Council, however, retains the right to either raise the offset obligation to more than 30% or give waivers, depending on the nature of procurement. The obligation applies equitably to foreign and Indian vendors.
'Make in India' has a broad sweep covering the whole manufacturing sector with linkages to upstream areas like metals and mining. If locally produced steel, aluminium and copper are not optimally used in making defence equipment and components, automobiles and home appliances, then Modi's campaign will lose much meaning. It is well understood why the government is giving a push to reforming defence procurement policies, as borne out by raising the limit of foreign direct investment in the defence sector to 49% and dispensing with licensing requirements for most items. Modi is targeting lifting the share of defence procurement from domestic sources to 70% because it would limit the outgo of foreign exchange and create hundreds of skilled jobs. If the defence and aerospace industries grow in the next 10 years on expected lines, about 200,000 skilled jobs would be created. But worryingly, large gaps remain in the country's technical education system for building sector-specific skills.
A number of Indian business groups, including Tata, Reliance Industries, Mahindra, L&T and Reliance ADAG, have not lost time in identifying areas of defence production they want to be in and foreign companies they must tie up with for technology and investment. But for products with considerable amounts of intellectual property resulting from years of R&D and investments of billions of dollars, foreign companies are found shy in becoming partners in joint ventures with 49% ownership. The challenge for the government is to address their concern of not losing 'prized intellectual property' to joint venture partners in the case of fallouts. Are we to barter away anything if we allow foreign arms groups to be majority partners with 51% ownership in JVs in which 'very closely held' technologies are involved? Certainly not. In fact, attempts by local private and public sector enterprises to leverage the nation's big arms procurement budget for building a strong defence industry with foreign technology and money needs all possible support. Selectively granting majority ownership to foreign firms will do the defence sector good.
Modi wants foreign companies to make things here for both the local and world markets. This applies as much to the ones engaged in producing automobiles as to defence equipment and components. But India is hardly counted as an arms exporter whereas China has emerged as the world's largest seller of arms in the world market after the US and Russia. Success in exports will depend largely on how defence JVs prosper. JVs hold the possibilities of breakthrough in exports of components to countries from where India buys arms. Commissioning recently a plate mill at the Rourkela steel plant, Modi said stepped-up local defence production, including tanks and warships, would generate "good demand for plates and other steel products". Metal producers are betting on the fact that unlike sectors like infrastructure and construction, defence procurement remains immune to the performance of the economy.
The automobile industry here, largely in the hands of foreign companies from Suzuki to General Motors, has pledged to go well beyond producing cars for the domestic market to making India the production base for the world. This was exactly Modi's message to Ford Motor CEO Mark Fields: "I would appreciate if you could make this country a good export hub." And Fields obliged by declaring that Ford's vision for India is to "triple exports" over the next five years and make it a "global centre of excellence for small vehicles, small cars and small displacement engines". Others like Honda have similarly announced their commitment to the Modi programme. Besides the push by Modi, the attraction of India is in the promise of it becoming a 6 million plus car market by 2020, states locked in competition to get automobile investment, an ever-expanding automotive components base and low manufacturing cost.
A report by Arthur D Little says by 2020 demand for Indian electronics and home appliances will rise to $400 billion when domestic supply will be $100 billion, underlining the indigenisation challenge. Industry official B Thiagarajan points out an aspirational level of more than the 400 million middle-class Indians and low penetration of appliances in all our markets will keep their demand growing at high double-digit levels for many years. But will much of incremental demand be met by imports or will the Modi magic work here?

(Kunal Bose is a senior journalist. The views expressed are personal)
Close Story
Personalise your news feed. Follow trending topics