11 MP tigers killed by poachers for rituals since 2018
Most of those arrested are tribals from buffer zones and corridor areas of wildlife sanctuaries, Madhya Pradesh's wildlife department officials said on Saturday.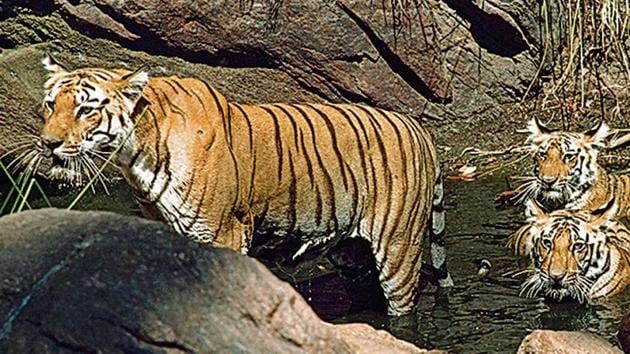 Published on May 18, 2019 11:28 PM IST
The arrest of as many as 19 people in Madhya Pradesh and neighbouring Maharashtra this month has blown the lid off a network of poachers involved in the killing of tigers and leopards for supplying their body parts for use in occult practices.
Most of those arrested are tribals from buffer zones and corridor areas of wildlife sanctuaries, Madhya Pradesh's wildlife department officials said on Saturday.
Body parts of the big cats, like claws, teeth and whiskers, were being offered to local deities in the superstitious belief that they would help ward off the evil eye, improve health and bring prosperity, the officials said. Such practices have been blamed for the killing of at least 11 tigers and several leopards since January 2018 in Madhya Pradesh alone.
Interrogation of the suspected poachers revealed that the use of a tiger's whiskers in the rituals are believed to enhance wealth and offer protection from the law, Madhya Pradesh's deputy conservator of forests, Rajneesh Singh, said. The forest department found that most of the big cats whose parts were used in the rituals were killed by laying traps rigged with electric wires or by poisoning them in the buffer zones of tiger habitats with the help of informers paid for the job.
"Most often, after getting information about tiger movements, they would lay electric wire traps near water sources," he said. As soon as tigers would get electrocuted, the poachers would remove the paws, claws, whiskers, skin, and teeth and bury their bodies, he added.
Singh said once the body parts were removed, the poachers would contact locals who practised sorcery to broker deals for anything between ₹10,000 and ₹20,000 per part. "All body parts would fetch a few lakh rupees,'' a forest department official said on condition of anonymity.
Principal chief conservator of forest (wildlife) U Prakasham said the department was trying to create awareness against such practices in the wildlife areas and telling tribals about the legal consequences of killing the big cats. "We are pasting posters in the villages to make them aware. But we are also ensuring strict punishment to offenders to teach others a lesson," he said.
Officials said earlier occult practices linked with paws of big cats were limited to Madhya Pradesh's Chhindwara, Seoni, Balaghat, Mandla and Dindori districts but similar cases were being reported from Betul and Raisen as well.
The National Tiger Conservation Authority's data for tiger deaths between 2012 and 2018 released in May 2019 showed that 31.5% of the 656 tiger deaths reported in India were due to poaching and electrocution.
"What we know [about the killing of tigers for the rituals] is the tip of the iceberg," said Prakasham. "There is a growing trend of killing tigers for occult practices and we have seen a spurt in the number of such cases in the last two years."
The Madhya Pradesh forest department has arrested 40 people over the last two years for the killing of tigers and leopards for such rituals; 25 have been arrested in Maharashtra. There have been reports of arrests for similar reasons in Rajasthan, Jharkhand, Karnataka and Kerala in the past one year.
Bhopal-based wildlife expert Ajay Dubey said such large-scale killings of the big cats across the state would be impossible without someone coordinating the activities of the poachers. "Like other gangs, the occult gangs also involve local people as sleeper cells and these tribal are also being used in such a manner," he added. He blamed the forest department for the increasing trend of tigers and leopards being killed for such practices. "The forest department is not strict with poachers and cases are not put up properly, therefore the conviction rate is very low in such cases," he said.
Close Story