There were 27 cases of ivory seizures in 2019, followed by 21 in 2020 and 42 in 2021, according information provided by the Wildlife Crime Control Bureau.

Updated on Aug 09, 2022 01:46 AM IST
By
Jayashree Nandi
, New Delhi
The death of the pachyderm was a re-run of a similar poaching of a tusker in the first week of June, when another elephant with at least five pellet injuries on its trunk, face, legs and body was found writhing in pain in the same forest range by local people.

Updated on Aug 08, 2022 03:51 PM IST
By
Debabrata Mohanty
, Bhubaneswar
Two poachers who were arrested on Saturday after a gunfight in Guna district of Madhya Pradesh were injured while trying to flee from police custody on Sunday, police said, adding that two policemen were also injured in the incident.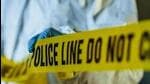 Updated on May 16, 2022 05:16 AM IST