22 years on, Prabhunath, Ashok's widow to resume battle in HC now
May 23, 2017 06:32 PM IST
Former MP Prabhunath Singh, his brother and nephew, sentenced to life imprisonment and slapped financial penalty of Rs 40,000 each for killing of Masrakh legislator Ashok Singh. Both parties to now take the fight to high court.
Sentenced to life term in the murder of a legislator, former MP and RJD leader Prabhunath Singh and wife of the deceased MLA, Chandni Singh, will now take their fight to the high court.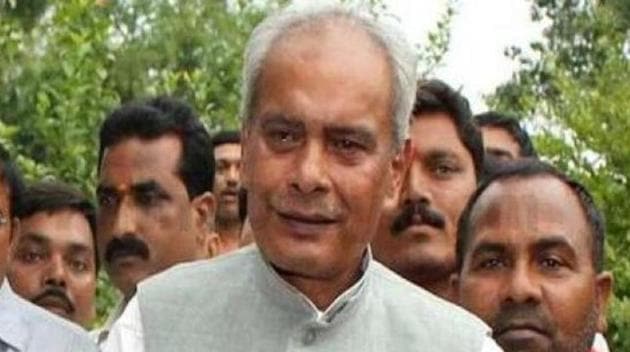 Twenty-two years after the murder of Ashok Singh, the then Janata Dal legislator from Masrakh in Saran district, a Hazaribagh court on Tuesday sentenced Singh, his brother Dinanath Singh and nephew Ritesh Singh to life imprisonment. The three were also fined Rs 40,000 each.
READ| Former Bihar MP Prabhunath Singh convicted in 22-year-old MLA murder case, sent to jail
Though the widow was thankful to the court, she said she wanted the guilty to be hanged. The widow, whose stony eyes welled up after the verdict, said: "Mujhe nyaypalika pe pura bharosa hai. Thoda nyay mila hai, thoda baki hai (I have full faith in the judiciary. I have got some justice, and some remains to be achieved)."
She said the verdict would please all those who were living under the shadow of Prabhunath's fear. She said Singh used to threaten her with dire consequences if she pursued the case, but the support she got from her family kept her going for the last 22 years. Braving difficult times, she said her tears had dried up.
"The financial hardship I faced during this period did not allow me to continue with the education of one of my two sons," she added.
The widow was critical of her husband's party not supporting her in the legal battle. Chief minister Nitish Kumar of the JD(U) and RJD chief Lalu Prasad were both part of the erstwhile Janata Dal at one point of time.
READ| Former Bihar Minister convicted for murder
Tarkeshwar Singh, elder brother of the deceased MLA, said: "A notorious criminal has been punished... If need be, we will go right up to the Supreme Court to take the case to its logical conclusion."
Refusing to comment on the lower court verdict, the former MP's lawyer Vijay Kumar Singh said he would appeal against the order in the high court. He said he was confident of getting justice. "We will move the court as soon as we get a copy of the order," he added.
Ashok Singh was killed in a bomb attack at his official residence — 5 Mangles Road — in Patna on July 3, 1995. Political adversary Prabhunath Singh, a three-term JD(U) and one-time RJD MP from Maharajganj in north Bihar, was named an accused in the murder case.