300 Dalit families convert to Buddhism in Hisar village
The seeds for conversion were sown when a group of Dalits and few upper-caste youths entered into a scuffle on June 15 in 2017 on the issue of drawing water from a common handpump.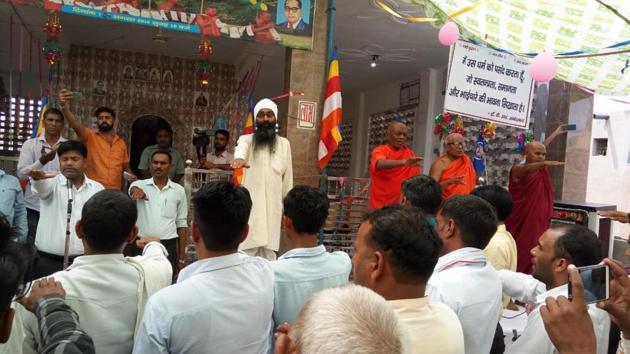 Updated on Aug 20, 2018 09:40 PM IST
At least 300 Dalit families, who had been facing "social boycott" for over a year in Bhatla village of Hisar district, on Monday embraced Buddhism in the presence of religious preachers and Dalit activist and lawyer Rajat Kalsan.
The exact number of converts, however, is yet to be known.
When it all began
A group of Dalits and few upper-caste youths had entered into a scuffle on June 15 last year on the issue of drawing water from a common handpump.
The family members of those Dalits had also started a dharna in front of the deputy commissioner's (DC's) office demanding strict action against the "accused".
Even the Punjab and Haryana high court had appointed a court commissioner, who visited Bhatla village to assess the ground reality on June 17, 2018.
The Dalit families led by Bhatla Dalit Sangharsh Samiti had told the court commissioner that the local administration and police were not investigating the case "properly".
The court commissioner, assistant advocate general Deepak Balyan, had recorded the statements of villagers belonging to Dalit and other communities.
While talking to HT, Kalsan, who is also the coordinator of National Alliance for Dalit Human Rights, said, "The BJP government never did anything for the Dalits and on Monday, 300 families of Bhatla converted to Buddhism.
The Dalit families of this village have been facing social boycott since last year, but the government did not take enough measures to resolve the problem."
He further said the converts also took an oath to not to vote for Bharatiya Janata Party (BJP) in future.
Dalit Sangharsh Samiti head Balwan Singh along with converts Ajay Bhatla and Jai Bhagwan Bhatla claimed that they decided to embrace Buddhism after their community was socially boycotted and the police also did not conduct a fair probe.
"We had a week ago also met the police officials at Hansi seeking proper security. The police even failed to ensure us that," Balwan added.
When contacted, Hisar deputy commissioner Ashok Kumar Meena said, "The administration always acts upon every complaint received from the families facing social boycott."
"The Punjab and Haryana Hight Court is directly looking into the matter and even had appointed a court commissioner. If we get any further direction from the court, we will comply with the orders," he added.
Close Story