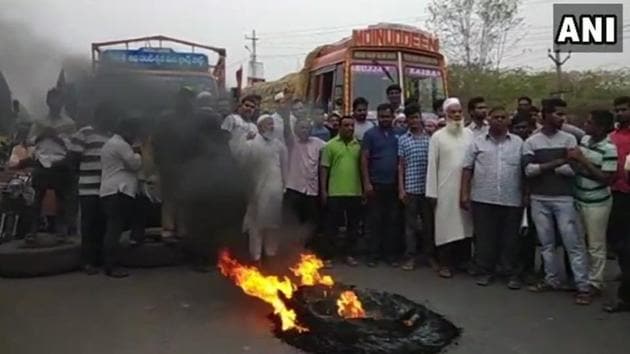 60-year-old Guntur man, accused of raping nine-year-old girl, found hanging
Guntur Police said they got a hint about the accused planning to commit suicide after he told a relative he didn't want to live anymore.
UPDATED ON MAY 04, 2018 04:23 PM IST
A 60-year-old rickshaw puller accused of raping a nine-year-old girl in Dachepalli of Andhra Pradesh's Guntur district on Wednesday allegedly committed suicide on Friday, police said.
Officials said the body of Annam Subbaiah was found hanging from a tree in an agricultural field near Amaralingeshwara Swamy temple between Daida and Telikutla villages in the afternoon.
Guntur Police, who launched a manhunt for the man who fled after the crime, said they got a hint about his suicide after examining his call data record. They said Subbaiah told one of his relatives that he had committed a crime and was ashamed of it.
"My son is paying the penalty for my heinous crime. I don't like to live anymore. I will be visible to you only in the form of a dead body," Subbaiah allegedly told his relative.
The incident took a political turn as YSR Congress party president YS Jaganmohan Reddy held chief minister N Chandrababu Naidu responsible for the incident and said the accused could be an activist of the ruling Telugu Desam Party.
He added that such incidents were happening only because Naidu had not taken action against TDP activists, who committed crimes against women in the past.
YSR Congress party's MLA RK Roja on Friday create a ruckus at Guntur hospital where the girl is undergoing treatment. She attacked Naidu for not providing protection to girls in the state.
Jana Sena Party chief Pawan Kalyan also expressed concern over such incidents and wondered what Guntur MP Galla Jayadev was doing when the rape was happening in his district.
The incident triggered massive protests in Dachepalli as thousands of people staged a sit-in on Addanki-Narketpalli state highway bringing the traffic to a grinding halt from Wednesday night to Thursday morning. They also staged a protest on the railway track and stopped trains for some time.
The locals razed Subbaiah's house and observed a shutdown in the town on Thursday. They demanded that the alleged rapist be arrested immediately and hanged to death on the streets. The police intervened and pacified the villagers, assuring them of action against the accused.
The incident comes less than a fortnight after the Union cabinet approved the death penalty to those convicted of raping children below 12 years following the nationwide outrage over the gangrape and murder of an eight-year-old girl in Jammu and Kashmir's Kathua.
It also increased the prison term for the rape of older girls and women.
Government figures show that a child is sexually abused every 15 minutes in India. According to the National Crime Records Bureau report for 2016, there was a sharp spike in cases of rape against children with an increase of such incidents by over 82% as compared to 2015.
Close