70% callers to helpline for Muslim women are men seeking info on triple talaq
Feb 22, 2017 03:53 PM IST
Hindi and Urdu speaking Muslims from Uttar Pradesh, Karnataka, Delhi and other states have also been calling to seek guidance
An overwhelming number of callers at an all-India helpline for Muslim women are men, who seek clarification on divorce and property rights for women, counsellors have said.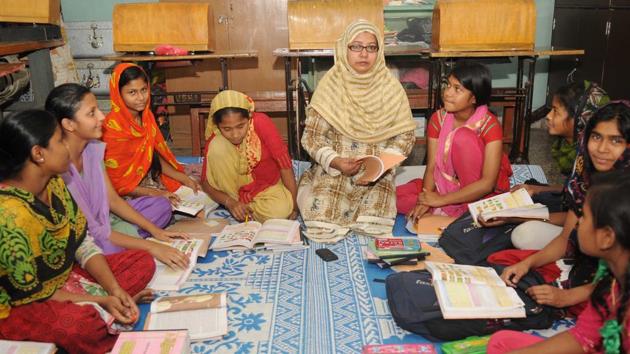 The toll-free helpline was set up by All India Muslim Personal Law Board (AIMPLB) last year to clarify, guide and help distressed Muslim women on various aspects of the Sharia law, especially on the issue of triple talaq, where men can divorce by simply stating their intention thrice.
Experienced regional counsellors counsel and guide Muslim women in Urdu, English and eight regional languages.
"Out of every 10 calls I receive, 7 or 8 are from Muslim men. Two or three are from women. The frequently asked questions range from the proper process of talaq, property rights of women and others," Uzma Alam, joint secretary of All Bengal Muslim Women's Association, said.
"Since it is a helpline for women, we generally pass on our email id and ask them to mail their queries," she added.
Read | Are triple talaq, polygamy protected under fundamental rights, Centre wants SC to decide
Apart from different parts of West Bengal, calls from Bengali-speaking Muslims have also been pouring in from Delhi, Maharashtra, Uttar Pradesh, Hyderabad and other states too. Alam is the only person who takes calls by Bengali-speaking callers and counsels them.
Hindi and Urdu speaking Muslims from Uttar Pradesh, Karnataka, Delhi and other states have also been calling to seek guidance, Alam said.
Counsellors located in other parts of the country, who handle calls in Urdu and Hindi, too said that the majority of the callers are male.
"Sometimes there are a dozen calls in a day, sometimes fewer. But 70% plus calls come from men. Some want to know the procedure of second marriage, some want to talk about their sons and daughters. We try our best and help out," Yasmeen Farooqi told Hindustan Times from Jaipur.
Read | Muslim women rise against triple talaq
Farooqi, a former government counsellor in a Jaipur family court for 12 years, is also the convener of AIMPLB's wing in Rajasthan.
"I think a large number of men who call lack proper understanding of religious laws. For instance, one of the men said that he has given talaq to his wife in a fit of anger and now wants to get her back. We even got calls from men saying that his wife is harassing him and he wants to know what is the way out," Alam, who is also the convener of Calcutta Muslim Orphanage, said.
Alam added that triple talaq is not the issue raised by women who call them.
"Women callers generally ask not only about talaq but a variety of issues including employment and education. There is also the issue of hijab as women wearing it are looked down upon in society in general," Alam said.
Farooqi also insisted that unemployment and education are bigger issues concerning women in Muslim society than talaq.
Syed Tanveer Nasreen, the head of the department of women's studies at Burdwan University, said if the majority of the calls are from men it points to the fact that Muslim women do not have the freedom to take decisions.
"If 70 % of the calls are from men, it shows that a large section of Muslim women can't even dare to make a telephone call and speak for themselves. Either they are queries from men and sometimes their brothers or father call up and do the talking," Nasreen said.
Read | Allahabad HC : Triple talaq unconstitutional
The Centre opposed the practice of triple talaq, 'nikah halala' and polygamy among Muslims in the Supreme Court last year and sought a relook on grounds like gender equality and secularism.
However, it was opposed by several Muslim organisations, including the AIMPLB, which stressed that "Sharia law cannot be changed". The board has been fighting tooth and nail against the Centre's bid to introduce uniform civil code and the matter is being heard in the Supreme Court.
"The divorce rate or talaq among Muslims is lower than that in Hindus. These are religious laws and the central government has nothing to do with it," Yasmeen said echoing the board's stand.
AIMPLB has been regularly holding workshops and seminars in different parts of the country, including West Bengal, to clarify Sharia law and 'triple talaq' issues among women.