Aarushi-Hemraj murder case: Rajesh, Nupur Talwar walk free after 4 years in jail
Updated on Oct 16, 2017 06:53 PM IST
Dentist couple Rajesh and Nupur Talwar were acquitted last week by the Allahabad high court in the murder of their daughter Aarushi and domestic help Hemraj.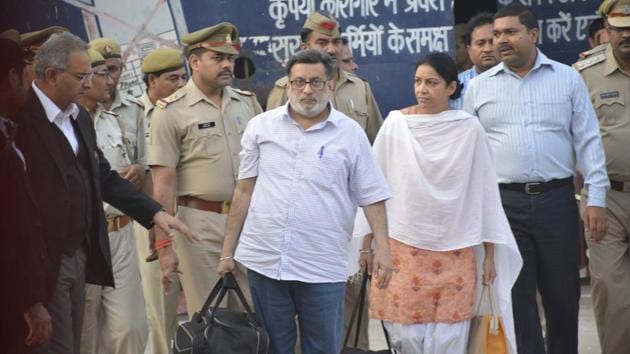 Rajesh and Nupur Talwar were released from a jail on Monday, four days after being acquitted by Allahabad high court in the murder of their teenage daughter Aarushi and domestic help Hemraj in their apartment in Noida in 2008.
The two, carrying three bags, were escorted by a posse of policemen as they emerged out of Ghaziabad's Dasna jail, and stood for a while as the photographers clicked them.
The Talwars have been lodged in the jail since November 2013 after a trial court in Ghaziabad sentenced them to life imprisonment for the murder of Aarushi and Hemraj.
Rajesh Talwar's brother Dinesh and their lawyers Manoj Sisodia and Tanveer Ahmed Mir went to the Dasna Jail to receive them.
"The Allahabad high court's decision is a stamp on the innocence of Rajesh and Nupur Talwar. This is what they deserved," said Mir. "It is my humble request to everybody in the media that what was snatched from my clients, please restore that dignity to them. Please let them live in peace."
The Talwars are expected to go straight to the Sai temple in Noida's Sector 40, after which they will head to Nupur Talwar's parents' home in Jalvayu Vihar Sector 25.
The Allahabad high court overturned the trial court's verdict on October 12 and acquitted them, giving the "benefit of doubt" to the accused in the face of insufficient evidence. The court also pointed out "various shortcomings" in the lower court's judgment, while ruling in favour of the defendants who had challenged the verdict.
The judgment brought down the curtains on one of India's most sensational murder trials that sparked numerous conspiracy theories with many accusing the police of bungling the probe.
The Talwars' 14-year-old daughter was found murdered in her bedroom in their flat in Noida's posh Jal Vayu Vihar – her throat slit with surgical precision – on May 16, 2008. The police initially suspected the missing house help from Nepal, Hemraj, but his decomposed body was found a day later from inside a locked room on the terrace of the building.
The police then began to suspect the Talwars and said Rajesh, the father, murdered the two after finding them in an "objectionable" position. The case was later transferred to the Central Bureau of Investigation.
The dentist couple will visit the clinic they were helping run at the jail hospital either weekly or fortnightly if the authorities permit.
"They have been the backbone of the clinic inside the jail and revived it after they arrived here," said Anand Pandey, a pharmacist at Dasna jail.
Personalise your news feed. Follow trending topics