After Kerala, Karnataka & West Bengal, Tripura says no to Centre's cattle trade rules
Tripura agriculture minister said the rules were against the interests of the people even as Kerala CM Pinarayi Vijayan asked his counterparts in other states to oppose the ban.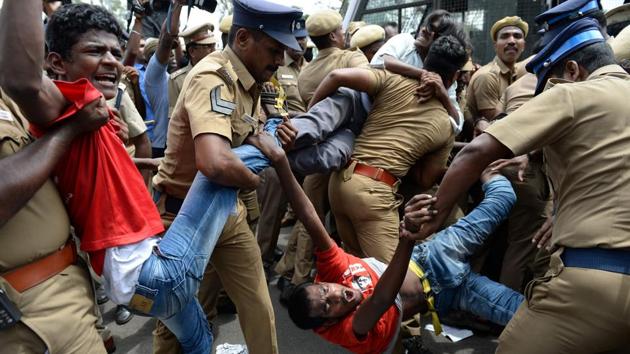 Updated on May 31, 2017 05:21 PM IST
After Kerala, West Bengal and Karnataka, Left-ruled Tripura has said it will not implement the Centre's ban on sale of cattle for slaughter through animal markets in the wake of outrage against the new rules that impact the livelihood of poor Dalits and Muslims.
"The new cattle trade and slaughter rules framed by the Central government are against the interests of the people. We will not implement them," Tripura's agriculture and animal resources minister Aghore Debbarma said on Wednesday.
Karnataka chief minister K Siddaramaiah on Tuesday said it is not mandatory to follow every notification issued by the Centre.
"...this matter is a state issue," he said, in response to Centre's restriction on country's biggest source of cattle for slaughter —animal markets.
Kerala chief minister Pinarayi Vijayan has asked chief ministers of other states to raise their voices against restrictions imposed on cattle trade, saying that the Centre's "anti-democratic" notification is an attempt to usurp the state governments' powers in the guise of rules under a Central Act.
Vijayan had written to the chief ministers saying the restrictions imposed on cattle trade would adversely affect the livelihood of millions of people, especially those in agriculture and related sectors.
The Kerala CM also said that the Centre's new rule is an impermissible encroachment into the domain of the state legislatures which is a clear "violation of the spirit of federalism".
In the wake of the backlash, environment minister Harsh Vardhan directed officials to consider amending the rules to remove buffalo from the definition of cattle, signifying that sale of buffalo for slaughter would be allowed through animal markets.
"We are looking at the representations received and an appropriate decision will be taken," environment secretary A N Jha told agencies.
In a statement, the ministry said the prime focus of the regulation is to protect animals from cruelty and not to regulate existing cattle trade for slaughter houses.
"The livestock markets are intended to become hubs for trade for animal for agriculture through this process and animal for slaughter will have to be bought from the farmers at the farms. The notified rules will remove the scope of illegal sale and smuggling of cattle which is a major concern," the ministry said.
The ministry also said the rules were notified following the 2016 directions of the Supreme Court in response to a petition filed by animal rights activist Gauri Maulekhi.
(With inputs from agencies)
Close Story
Personalise your news feed. Follow trending topics