After meeting with Amit Shah, Akali Dal asks BJP allies to cast away differences
BJP and Shiromani Akali Dal on Thursday affirmed their commitment to stay allies. They announced a six member co-ordination committee to work out electoral issues and future strategy.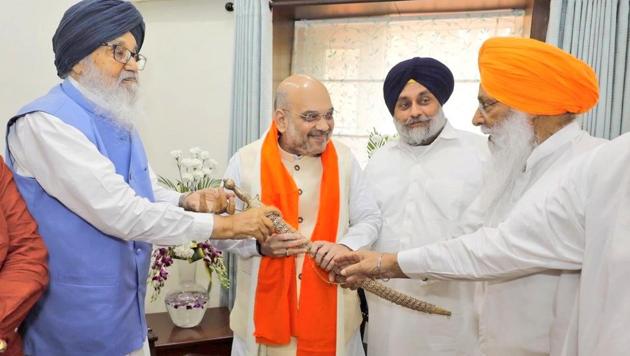 Updated on Jun 07, 2018 10:20 PM IST
Hindustan Times, New Delhi/Chandigarh/Mumbai |
HT Correspondents
Alliance partners BJP and Shiromani Akali Dal (SAD) on Thursday signalled that there were no discordant notes in their partnership, as both sides affirmed that their commitment to staying allies was "rock solid". They even announced a six member co-ordination committee to work out electoral issues and future strategy.
Soon after his meeting with the SAD leadership, including party patriarch Parkash Singh Badal and party chief Sukhbir Singh Badal, BJP chief Amit Shah in a tweet indicated that the meeting with SAD ahead of the crucial 2019 general elections was off to a good start.
"It is always a delight to meet Badal Sahab. Met Shri Parkash Singh Badal ji and Shri @officeofssbadal ji at their home in Chandigarh," he tweeted.
Shah's tweet was in contrast to the one he put out on Wednesday after a closed-door meeting with Shiv Sena chief Uddhav Thackeray in Mumbai, details of which are still under wraps. Ties between the Sena and the BJP are under strain.
At a time when the BJP is grappling with the growing echo of discontent from its other allies, such as RLSP and JD(U); former Punjab deputy CM Sukhbir Singh Badal gave it a helping hand by asking other alliance partners to bury their differences.
"I would like to appeal to all our allies that this is the time to fight; the battle is in six months. We should get together and cast away all our differences" Sukhbir said when asked about the concerns voiced by the Shiv Sena.
Two senior leaders of the party, Rajya Sabha member Balwinder Bhundar and former minister Sikander Maluka, who had earlier accused the BJP of ignoring the SAD in last four years at the Centre, chose not to raise the issue at the meeting with Shah, people aware of the developments said.
SAD leaders who were part of the meeting claimed that Shah came to Chandigarh to take "guidance" from the senior Badal.
"Parkash Singh Badal ji is country's most tallest and pious leaders. He is guiding force for the NDA and I have come here to consult him on various issues concerning Centre and the farmers," Shah told leaders of both parties according to SAD core group member Bikram Majithia who was also in the meeting.
Also read: Akali Dal leaders accuse BJP of ignoring them for too long as Amit Shah holds closed-door meet with Badals
Shah held a 'closed door' meeting with senior Badal and Sukhbir Badal for nearly 45 minutes, during which some "concerns" were conveyed to Shah, party sources said. These concerns include greater focus of the central government on justice for victims of the 1984 anti-Sikh riots and issues concerning the Sikh community both in India and abroad.
SAD is also learnt to have asked for a CBI probe in the sacrilege cases of Guru Granth Sahib. Sukhbir dubbed the meeting as "most positive, result-oriented and fruitful" and said there's and "was no conflict between SAD and the BJP".
In Mumbai, Shah had arrived to a derisive piece about his outreach to allies in the Sena's mouthpiece Saamana. While Shah and Sena chief, Uddhav Thackeray are learnt to have had a one-on-one meeting at Matoshree, lthe latter's residence, details of the interaction have been kept under wraps.
After the meeting Shah only tweeted, "Met Shri Uddhav Thackeray ji at Matoshree in Mumbai", giving no indication of what transpired. On Thursday, the BJP chief also met with the Punjab BJP unit to discuss election strategy for 2019.
Close Story