After Uttar Pradesh, BJP-ruled Jharkhand bans illegal slaughterhouses
While the Jharkhand government issued a notice to shut down illegal abattoirs, it does not have any record of legal slaughter houses in the state.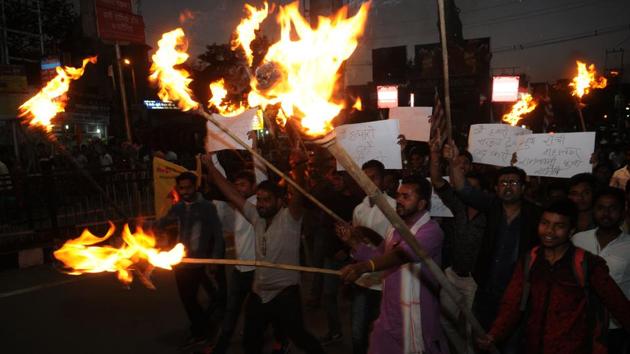 Updated on Apr 07, 2017 06:57 PM IST
After Uttar Pradesh, the Jharkhand government on Monday issued an order for closure of all illegal slaughterhouses in the state within 72 hours. But ironically, the government doesn't have any record of legal abattoirs in the state.
The home department has asked all the deputy commissioners, senior superintendents of police and superintendents of police to ensure closure of the illegal slaughter houses in their respective areas.
"Notice will be served to all illegal slaughter houses for closing their operations in the next 72 hours," said the government circular signed by home secretary SKG Rahate. According to the circular sub-divisional officers would be nodal officers to follow up and ensure closure of illegal slaughter houses.
Unlike UP where the ban on illegal slaughter houses was part of the BJP's election manifesto, in Jharkhand, the government's decision came on the heels of a demand by right wing organizations for a blanket ban on slaughter houses.
About half a dozen organizations including Hindu Jagran Manch (HJM), Bajrang Das and Jharkhand Gau Raksha Dal had been pressing their demand for a ban on slaughter houses for the last four days.
The organizations took out a torch light procession on Sunday night demanding ban on slaughterhouses and a crackdown on cattle smuggling and had threatened massive agitations after April 10 if the state government did not issue an order against slaughterhouses.
Right-wingers had been claiming hundreds of illegal slaughterhouses were operating in Jharkhand.
Animal husbandry, health and municipal bodies are responsible for ensuring compliance of the rules and regulations of slaughterhouses and meats shops. Interestingly, these departments do not have any record of legal slaughter houses operating in Jharkhand.
An official of the urban development department, who did not want to be identified, said the department does not have any record of legal abattoirs in the state.
Rajnikant Tirkey, director of state animal husbandry department, said they provide veterinarian for ante-mortem and post-mortem facilities of the animals in slaughter house on request of local urban bodies.
But sources in the department say that they have not received any requisition from any local bodies in the state till date.
In the run-up to the ban, the Rashtriya Swayamsevak Sangh (RSS) and Vishwa Hindu Parishad (VHP) had held two different meetings in Ranchi last week urging the state government to proscribe illegal abattoirs in the state.
Close Story
Personalise your news feed. Follow trending topics