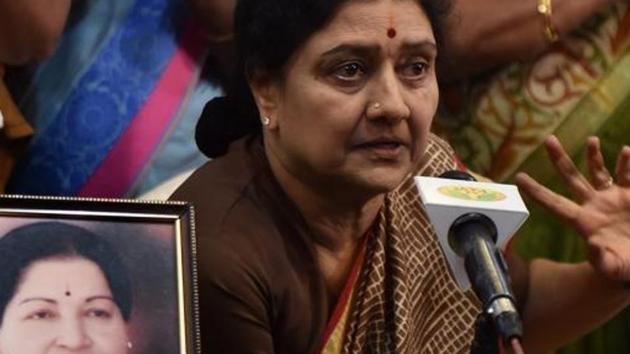 AIADMK removes Sasikala: A timeline of events since Jayalalithaa's death
VK Sasikala's ouster from all AIADMK posts marks the latest development in the feud within the party.
UPDATED ON SEP 12, 2017 12:55 PM IST
The AIADMK removed general secretary VK Sasikala on Tuesday from all party positions, a move that could signal an end to the feud that has rocked Tamil Nadu's ruling party after its chief J Jayalalithaa's death.
In August, the two warring factions of the party represented by O Panneerselvam and chief minister Edapaddi Palaniswami had united, signalling the end of the road for Sasikala who is in jail for corruption as well as her nephew TTV Dinakaran.
Here is a look at the timeline of events within the AIADMK since Jayalalithaa's death.
December 5, 2016: J Jayalalithaa dies at Chennai's Apollo Hospital at the age of 68 after suffering a cardiac arrest. O Panneerselvam, popularly known as OPS, is swiftly sworn in as chief minister.
February 5, 2017: OPS resigns as the CM for "personal reasons." Sasikala is elected as the head of the legislative party. She makes plans to form the government the next day. Governor C Vidyasagar Rao accepts OPS' resignation, but asks that he hold the post until a new CM is elected.
February 6: Plans to elect Sasikala as CM is postponed, as the governor says he is unable to attend the ceremony due to scheduling issues.
February 7: OPS meditates for 40 minutes next to Jayalalithaa's memorial. He then makes startling revelation that he "was forced to resign."
February 9: OPS camp gets a huge boost after senior leader E Madhusudhanan, the party's presidium chairperson, joins them.
February 10: Sasikala takes 129 MLAs and keeps them at Golden Bay resort to prevent any defections to OPS' side.
December 29: Sasikala is appointed the general secretary of the AIADMK after the party's general council unanimously passes a resolution.
February 14: Sasikala is convicted in the DA case and is sentenced to four years in jail. Edappadi K Palaniswami is appointed head of the legislature party and expels OPS from the AIADMK.
February 15: A day after being convicted by the Supreme Court, Sasikala surrenders before Bengaluru's Parappana Agrahara jail.
February 18: Palaniswami wins floor trust vote amid high drama in the assembly.
March 23: The Election Commission freezes the 'two leaf' election symbol of the AIADMK and bars both O Panneerselvam as well as party interim general secretary Sasikala from using it.
March 31: The poll panel allots new names and symbols to the two warring factions of Tamil Nadu's ruling party AIADMK for a bypoll in RK Nagar assembly constituency of former chief minister Jayalalithaa.
April 18: A nine-member team of AIADMK (Amma) leaders is formed to negotiate with the O Panneerselvam camp to draw up a merger formula.
April 25: The Delhi Police arrests TTV Dinakaran for his alleged involvement in a bribery case.
April 29: The Election Commission cancels the RK Nagar by-elections scheduled for April 12 after evidence of rampant corruption and bribery come to light following a series of high-profile raids by the Income Tax Department
June 1: AIADMK (Amma) leader TTV Dinakaran is granted bail by a Delhi court against a surety bond of Rs 5 lakh.
June 14 : After rebel leader O Panneerselvam disbands a party panel to facilitate the merger of AIADMK factions, the Palaniswami camp's D Jayakumar asks him to reconsider the decision.
August 11: Tamil Nadu chief minister Edappadi K Palaniswami meets Prime Minister Narendra Modi amid growing speculation over the merger of the two warring factions of the AIADMK.
August 14: Panneerselvam meets PM Modi and discusses the political situation in the state, including the possibility of the merger of the AIADMK factions.
August 17: Palanisami orders a judicial investigation into the death of AIADMK supremo Jayalalithaa, accepting two demands of OPS – judicial probe into Jayalaithaa's death and a Jaya memorial at her Poes Garden residence.
August 21: The two warring factions within AIADMK merge, as chief minister E Palaniswami and O Panneerselvam reach an agreement. Former Tamil Nadu chief minister Panneerselvam takes oath as the deputy chief minister.
September 12: At a general council meeting in Chennai headed by deputy chief minister O Panneerselvam and chief minister Edapaddi Palaniswami, the AIADMK passes resolutions removing Sasikala and nephew TTV Dinakaran from all party positions.
Close