AIB meme annoys Modi lookalike in Kerala, he plans to shave off beard
Jul 16, 2017 12:13 AM IST
Photo of Kerala resident MP Ramachandran peering into a mobile while waiting for a train to Bengaluru went viral on social media.
A resident of Kerala, MP Ramachandran was used to the attention he attracted for being a lookalike of Prime Minister Narendra Modi. Often stopped at railway stations and bus stops by strangers with requests for selfies, he readily obliged. But not anymore.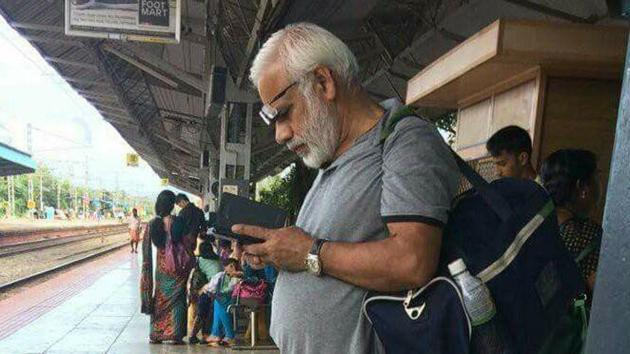 Ever since the Mumbai-based comedy group All India Bakchod (AIB) used his photograph alongside a morphed picture of Modi with dog's ears and a snout superimposed, triggering a controversy, Ramachandran, 61, has grown tired of his resemblance with the prime minister.
"I will shave off my beard next week," he said on Saturday. His grey beard gone, he hopes he will not make heads turn anymore. "People are misusing my picture. This has been happening for a while," he told HT from Bengaluru, where his son works.
The photograph of him peering into a mobile while waiting for a train to Bengaluru was taken at the railway station of his hometown Payyanur earlier this week. With his grey hair and beard, he looked uncannily similar to the prime minister and the photograph went viral on social media.
The photograph was picked up thereafter by the AIB for taking a crack at the prime minister. They used Ramachandran's photograph alongside a picture of Modi's face with the Snapchat dog filter, using the hashtag #Wanderlust.
Not many found it funny and the Mumbai cyber police on Friday filed an FIR against AIB co-founder Tanmay Bhat for "insulting" Modi.
However, Ramachandran, now retired after having worked in the Gulf for several years, insists he is an ardent fan of Modi. "He (Modi) is an able administrator. For the first time we feel someone is in charge," he said.
Ramachandran has firsthand knowledge of Modi's strong connect with ordinary people. The first time he was stopped was two years ago when he was waiting for a train to Jammu. "A boy approached me to click a picture. There were army personnel around and they jostled with each other to pose for pictures with me. The picture frenzy ended up delaying the train's departure by nearly 20 minutes. I also heard chants of Modiji zindabad," he recalled.
Incidentally, Ramachandran is not the only Modi doppelganger. Vikas Mahante from Mumbai's Malad locality too hit the headlines for his uncanny resemblance to the PM. Another who sees himself as a Modi lookalike, Abhinandan Pathak, even jumped into the poll fray from Varanasi — incidentally, against the BJP. Yet another Modi lookalike in Nagpur cut a cake on the PM's 66th birthday this year and participated in a road cleaning drive to spread the message of Swachh Bharat Abhiyan.