Fodder scam: Jharkhand HC extends Lalu Prasad's bail till July 3 for medical treatment
Jun 22, 2018 04:25 PM IST
Lalu Prasad urged the court to extend his bail period saying his health condition has not improved.
The Jharkhand high court on Friday extended Rashtriya Janata Dal (RJD) chief Lalu Prasad's provisional bail period till July 3 for continuing treatment at a Mumbai-based super specialty hospital.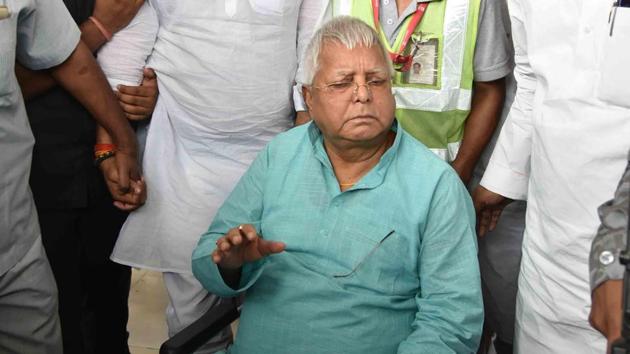 Prasad, who was in Birsa Munda Central Jail since December 23 last year after being sentenced in a fodder scam case, was subsequently convicted and sentenced to jail in two more fodder scam cases. He was released on bail for six weeks in May by the high court on health ground.
Prasad, in his petition, urged the court to extend the bail period for another two months as his health condition has not improved.
The bench of acting chief justice DN Patel, however, extended the bail period till July 3.
"My client is currently undergoing treatment at Asean Heart Institute in Mumbai. As per his medical report, he needs another two months for recovery," said Prasad's advocate Prabhat Kumar.
He added, "Since the regular high court bench that deals with fodder scam cases was not available on Friday, we approached the chief justice court for immediate relief as Prasad's bail period is going to terminate on June 26. We will take up the matter again with the regular bench next Friday."
Prasad, after spending more than two months in jail, had developed health complications and undergone treatment at the Rajendra Institute of Medical Sciences in Ranchi, and at the All Indian Institute of Medical Sciences (AIIMS) in New Delhi for nearly two months.
Prasad had been diagnosed with 15 different diseases including Type 2 diabetes, hypertension, peri-anal abscess and acute kidney injury on chronic kidney disease at AIIMS in New Delhi.