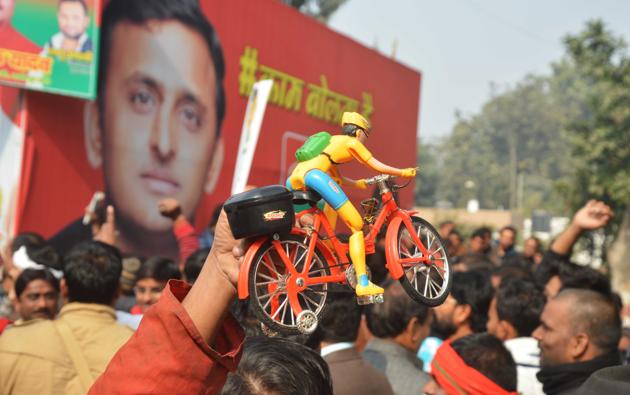 SP infighting: Mulayam takes Akhilesh, Ramgopal back after expulsion
Chief minister Akhilesh Yadav and his uncle Ram Gopal Yadav were taken back into the Samajwadi Party on Saturday, a day after they were expelled from Uttar Pradesh's ruling party by Mulayam Singh Yadav following a political family feud.
Hindustan Times, Lucknow | By Pankaj Jaiswal and Rajesh Kumar Singh
UPDATED ON JAN 01, 2017 07:34 AM IST
The ruling Samajwadi Party in Uttar Pradesh averted a looming split, with the old guard revoking on Saturday the expulsion of chief minister Akhilesh Yadav and party general secretary Ramgopal Yadav.
The reconciliation in party patriarch Mulayam Singh Yadav's feuding family was as swift as Friday's shock exile of his chief minister-son, which pushed the government into uncertainty.
A groundswell of support for Akhilesh and aggressive mediation were said to have forced the elders to relent.
Read | Yadav family feud: What next for Akhilesh, Samajwadi Party and UP
The day began with a meeting of legislators that Akhilesh had called in his 5 Kalidas Marg home. Nearly 230 MLAs and members of the legislative council (MLCs) came, and thousands of their supporters waited outside.
Minutes into the meeting, the exiled son turned emotional. He reportedly broke down and told the legislators: "We will win the elections. I will gift him (Mulayam) the victory."
In the meantime, the party's Muslim poster-boy, Azam Khan, met Mulayam at his 5 Vikramaditya Marg address and pressed for a patch-up. Then he left for Akhilesh's home with a message.
The 43-year-old chief minister reportedly became emotional again, when he was told that his father had said he would have never made him the chief minister had he been against him.
Mulayam too had called two meetings — of the party parliamentary board and another for legislators and candidates that he and brother Shivpal Yadav had announced. Mulayam did not turn up for both, asking Shivpal, the party's state unit chief, to chair them.
Not more than 100 candidates of the 395 declared by Mulayam and Shivpal attended the meeting.
Read | Samajwadi Party rank and file backs Akhilesh in turf war with Shivpal
By then, mediator Khan met Mulayam at his home again, prompting the patriarch to summon sibling Shivpal. Akhilesh too arrived, post-noon. He touched his father's feet and Netaji, as Mulayam is called by his supporters, hugged him.
Word went out soon after that the expulsion has been cancelled and the party will remain united to stop communal forces from winning next year's state elections.
"Netaji has built the party. He is a father as well as the party chief … What problem can a father have with his son?" parliamentary affairs minister Khan said.
Besides Khan, RJD president Lalu Prasad, whose youngest daughter is engaged to Mulayam's grandnephew, played peacemaker.
He urged Mulayam over the phone around 8am to keep the party intact to fight communal forces, a reference to the BJP.
At 1.50pm, Shivpal tweeted: "Expulsion of CM Akhilesh Yadav and national general secretary Ramgopal Yadav revoked ... We are united and will defeat communal forces."
For the first time in months, Akhilesh supporters cheered a Shivpal tweet.
The chief minister could be appointed national president or made national convener of the party at its special party convention on the New Year's Day. General secretary Ramgopal, who is Mulayam's cousin and an ardent Akhilesh backer, called the convention during Friday's churning in the party.
Though Sunday's meeting may look redundant now because of family reunion, sources said several niggling issues remained such as Akhilesh's objection to "outsiders" meddling in family affairs and "criminal and tainted" names on the list of candidates drawn up by his father and uncle.
Read | Prospects SP-Cong alliance increase after Akhilesh Yadav gets majority support
Shivpal said a new list of candidates would be discussed and released later.
Akhilesh was engaged in an intense power struggle with his family's elders, especially uncle Shivpal, who enjoys the backing of brother Mulayam.
The feud reached its flashpoint when Mulayam listed 325 party candidates for the 403-member assembly and ruled out projecting Akhilesh for the chief minister's post. Akhilesh came up with his own list of 235 candidates.
Read | Split in Samajwadi Party will benefit BJP in UP elections, says Lalu
Close