Alwar lynching: Rajasthan minister backs police clean chit to six people
Sep 14, 2017 10:17 PM IST
Rajasthan home minister Gulab Chand Kataria said the police must have come to the conclusion 'on the basis of evidence and witnesses in front of them'.
Rajasthan's home minister, Gulab Chand Kataria, defended on Thursday the clean chit given by the state police to the six people who had been named by Haryana dairy farmer Pehlu Khan before he died of injuries sustained in an attack by cow vigilantes.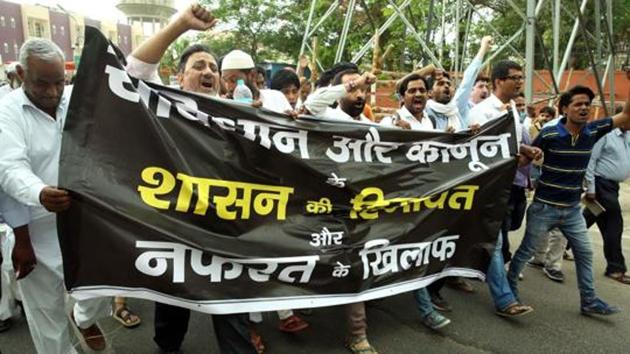 HT managed to catch up with one of the six, who said truth always prevails.
Stay tuned with breaking news on HT Channel on Facebook.
Join Now
A day after HT reported that the CID-CB of Rajasthan police had completed its investigation into the Alwar lynching case, and found that the six people named in Khan's statement to police in the ICU of a hospital were not involved in the attack, Kataria backed the police.
"They must have concluded this on the basis of evidences and witnesses before them. I will not say anything on their findings," he said.
Meanwhile, head of CID-CB Pankaj Kumar Singh said the crime branch did a detailed investigation and found that six people named in the FIR were not involved in the attack on Khan.
"Khan named eight people; we found two of them were involved in the attack. The other six were not present at the site of attack," he claimed.
HT spoke to Om Yadav, one of the six people, shortly after he learned that his name would soon be struck off the FIR.
"I got the good news this morning," he said. "My family, relatives and I suffered a lot for close to six months but truth prevailed."
Row erupts
Rajasthan Congress president Sachin Pilot said, "...even the chief minister assured justice but according to the family of Khan this does not look like justice".
Another Congress leader, Shehzad Poonawalla from Maharashtra, tweeted: "We will take up Pehlu Khan case before SC which is hearing our Gau Raksha PIL on 22nd September and seek justice too."
In Jaipur for a convention by the Opposition parties, JD(U) leader Ali Anwar Ansari and CP-M leader Sitaram Yechury also reacted to the development.
"Pehlu Khan named six people in his FIR; now efforts are being made to remove them, sidelining the report of intelligence bureau," Anwar said at the convention.
Yechury said: "It seems no one killed Pehlu khan, or maybe he did not die."
Former Jammu and Kashmir chief minister Omar Abdullah too spoke out against the clean chit. "How foolish to expect anyone would be found guilty of murder! #PehluKhan committed suicide & staged the lynching to make a dramatic exit," he wrote on Twitter.
Aam Aadmi Party spokesperson Ashutosh, sharing a photograph of the HT story, alleged that the police are "saving criminals despite the dying declaration of Pehlu Khan".