Alwar lynching victim died in police custody, says Rajasthan home minister
Updated on Jul 24, 2018 07:26 PM IST
The Alwar police had come under fire for a suspicious conduct in the death of Rakbar Khan.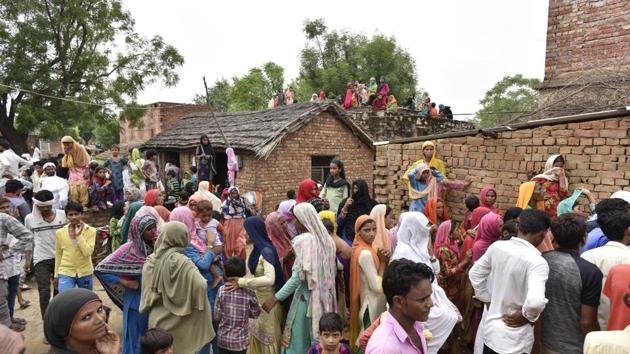 Rajasthan's home minister Gulab Chand Kataria said on Tuesday that Rakbar Khan who was beaten up by a mob of cow vigilantes died in police custody.
"According to the evidence we have collected, it looks like a custodial death. Further investigation is underway," Kataria said about the Alwar lynching case. "We have written to the additional chief judicial magistrate to initiate a probe."
The minister also said an initial compensation of Rs 1.25 lakh had been ordered for the family of the deceased.
"I met the victim's family and they told me that they are satisfied with the action taken so far. I told them to come and meet me whenever they want if they want to tell me something more," Kataria said.
Rakbar (31) and his associate Aslam of Kol village in Haryana's Mewat region, were herding two cows when they were intercepted by suspected cow vigilantes and assaulted at Alwar's Lalavandi village on the intervening night of Friday and Saturday. While Rakbar was beaten up, Aslam managed to escape.
On Tuesday, BJP MLA from Ramgarh (Alwar) Gyandev Ahuja had also accused the police of beating up Rakbar in custody.
Alwar police had come under fire for a suspicious conduct in the death of Rakbar Khan. On Monday, Rajasthan Police suspended as assistant sub inspector Ramgarh police station and sent three constables to the police lines following an uproar over the delay in taking Rakbar to a hospital. The man was declared brought dead to the hospital, more than three hours after found him.
A four-member panel appointed of the Rajasthan Police to probe the circumstances surrounding Rakbar's death has admitted that there were lapses on the part of the police.
"At the preliminary stage, we have found that there was some error in judgment. There was a time lapse of three hours, and the incident could have been avoided if the police had responded more efficiently," said inspector general of police (law and order) NRK Reddy on Monday. Reddy heads the probe committee.
The police have been accused of further beating Rakbar after the assault and squandering over three hours in having tea and shuttling the cows to a bovine shelter before finally admitting him to a hospital.
(With agency inputs)