Rahul must apologise for Congress leaders' saffron terror remarks, says Amit Shah in Rae Bareli
BJP chief Amit Shah addressed a public meeting in Sonia Gandhi's Lok Sabha constituency and said the BJP will rid Rae Bareli of 'parivarvad'.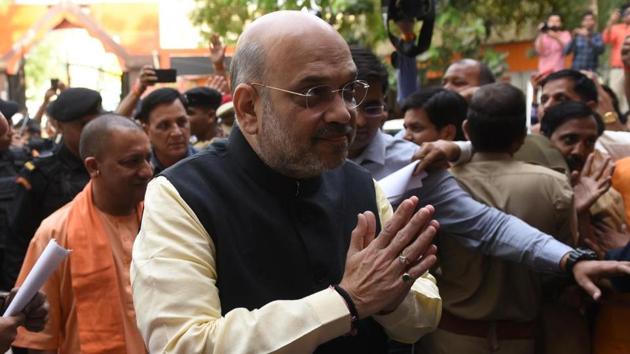 Updated on Apr 21, 2018 05:28 PM IST
Press Trust of India, Rae Bareli |
Press Trust of India
Days after the acquittal of Swami Aseemanand in the Mecca Masjid blast case, BJP president Amit Shah on Saturday targeted Congress chief Rahul Gandhi over the party's attempts to "defame" Hindus in terror cases.
Shah asked Congress chief Rahul Gandhi to apologise for remarks made by Congress leaders over saffron terrorism.
"I want to ask Rahul 'Baba', your leaders have talked about saffron terrorism...you need to apologise...decide how low you can stoop," Shah said while addressing a public meeting in Rae Bareli.
The BJP took its fight against the Congress to the Gandhi family's pocket borough in Rae Bareli, the Lok Sabha constituency of former Congress president Sonia Gandhi, with Shah saying his party would rid of 'parivarvad' and take it on the path of development.
"Rae Bareli has seen 'parivarvad' (dynastic politics) ever since Independence till this day and no development...I have come here to make it clear that the BJP will free Rae Bareli of 'parivarvad' and will start the campaign from today itself for taking it on the path of 'vikasvad' (development)," he said.
"The Congress and its top leadership have ruled in Uttar Pradesh and Rae Bareli for years but the 'bhumi pujan' (ground breaking ceremony) of community health centre and primary health centre was carried out only lately and the Yogi Adityanath-led state government has done a lot for the constituency...now with some Congress leaders here joining the BJP, it is our responsibility to develop it by leaps and bounds," he said.
"We will develop it as an ideal constituency and a model district," he said, virtually blowing the BJP's election bugle with the Lok Sabha polls barely some months away.
Read | Amethi will be as developed as Singapore, California in 15 years: Rahul Gandhi
He said before the Yogi Adityanath dispensation assumed office, Uttar Pradesh was known for 'goonda raj' and bad law and order.
"...Yogi government has established rule of law," he said.
Shah said he wanted to tell Rae Bareli people that he had been touring all over the country and "I can say Narendra Modi government will come back with a bigger mandate in 2019".
Exuding confidence that the BJP will win the Karnataka assembly election, he said, "The BJP will have its 16th state government in the country after May 15."
Though the BJP swept Uttar Pradesh in the 2014 general election, the BJP lost both Rae Bareli and Amethi to the Congress.
Barring three exceptions -- 1977, 1996 and 1998 -- Rae Bareli has stood with the Congress since 1952.
This time the BJP is out to test Rae Bareli's love for the Nehru-Gandhi family currently represented by UPA chairperson Sonia Gandhi, a four-term MP. Amethi is represented in Parliament by Congress president Rahul Gandhi.
Fire at venue
Earlier, a minor fire broke out at the venue of the public meeting, triggering panic and commotion in the audience.
The fire, which was brought under control in short time, broke out due to an electrical short-circuit near the media enclosure, officials said.
Shah and Uttar Pradesh chief minister Yogi Adityanath were present on the dais at the time of the incident.
State BJP chief Mahendranath Pandey was addressing the gathering when smoke and sparks were noticed. Because of the fire, the programme was stopped for a while.
Close Story