Cyber-secure India key for development: Amit Shah
Jun 21, 2022 05:12 AM IST
Shah spoke about Prime Minister Narendra Modi's vision to strengthen Indian through technology and the Internet
Cyber security is integral to national security and the government led by Prime Minister Narendra Modi is committed to making it robust, home minister Amit Shah said on Monday.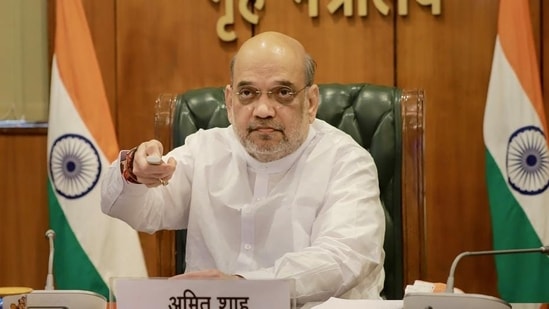 Addressing a national conference on cyber safety and national security, Shah stressed on the need for public awareness, saying it is "most important" for cyber security in the country.
"We all know how important it is to build a cyber-secure India for the development of the nation. In today's era, India's development can't be done without cyber security," Shah said.
"With the initiative of the Prime Minister, India is going forward in all areas, and the usage of technology has been taken to all levels," the home minister said. "But if cyber security is not ensured, this strength can become a huge challenge for us."
Stressing on the importance of public awareness, Shah said: "Technocrats may research security facilities as much as they want but if people are not aware, it can't be put into use."
"It is imperative that every citizen understands the challenges of cyberspace so that a cyber secure India can be created," he added.
The minister also spoke on India's digital initiatives such as direct benefit transfers and the United Payments Interface system, saying the country's strengths may turn into challenges if appropriate steps are not taken to protect it.
"It is the Prime Minister's vision to take technology and the internet to every Indian. There are nearly 80 crore internet users in India. Our strength can become a challenge if we do not focus on citizen empowerment and awareness," he said.
"Digital initiatives such as the direct benefit transfer scheme have eliminated corruption and ensured that each Indian receives the compensation directly in their bank accounts. But the scheme has also thrown up the challenge of cyber frauds and cyber-attacks. As we move towards a digital revolution, we need to empower our citizens," minister Shah said.
The government has received nearly three lakh complaints pertaining to cyber crimes and two lakh on social media-related crimes ever since it launched a portal – cybercrime.gov.in – to report such instances three years ago, Shah said.
Shah also alleged that some nations had created cyber armies against India. "(Others that) do not want to see our country safe… attempt various types of cyber-attacks," he said.
The Centre is already working on a national cybersecurity strategy which proposes a separate legislative framework for cyberspace and the creation of an apex body to address threats, responses and complaints. The plan, however, has been pending with the government for over a year, HT reported on February 23.
Called National Cyber Security Strategy, 2021, the policy stresses on a need for a legislative framework to address the emerging challenges in the technology space.
Currently, the response to cyber security threats can be taken under the Information Technology Act and the Indian Penal Code.
Shah also urged ministries to begin planning for 100 years of India's independence. "It doesn't matter who will lead it," he said. "But all ministries must start working to make India reach great heights and plan for its 100 years of Independence."