Amit Shah calls Gandhi a 'chatur Baniya', Congress attacks BJP president
Jun 10, 2017 08:05 PM IST
BJP president attacks arch-rival Congress for being a party born "without ideology or principle"
BJP president Amit Shah has called Mahatma Gandhi a 'Chatur Baniya', drawing criticism from the Congress that said it was an insult to the father of the nation and the freedom movement.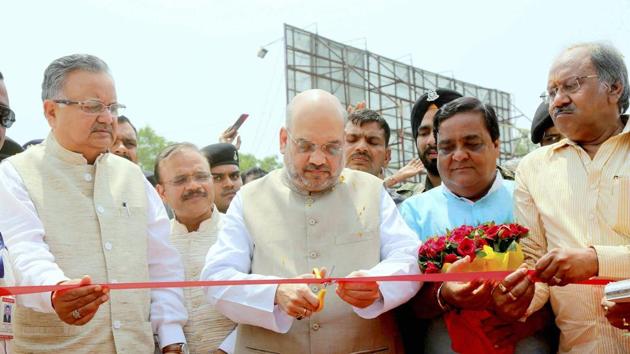 The word Baniya, a caste of traders and merchants, is often used pejoratively to suggest a trait of shrewdness.
Stay tuned with breaking news on HT Channel on Facebook.
Join Now
The Congress is not a party born out of ideology or principle. It was a tool for independence," Shah said on Friday. "Aur isi liye Mahatma Gandhi ne durandesi ke saath, bahut chatur baniya tha woh, usko maloom tha aage kya hone waala hai, usne azadi ke baad turant kaha tha, Congress ko bikher dena chahiye (and this is why Mahatma Gandhi with much foresight, and he was like a clever Baniya who knew what was to come , suggested after independence the Congress be disbanded)," he said.
The Congress said Shah, and Prime Minister Narendra Modi, must apologise for the comments.
"Rather than fighting casteism, they (BJP) identified even the father of the nation with his caste. This shows the character and ideology of the ruling party and its president. Where will these people take the country?" party spokesperson Randeep Surjewala asked.
"We demand that Amit Shah, BJP and PM Narendra Modi apologise to the country, the families of freedom fighters and every citizen for insulting the freedom movement... and the father of the nation".
Surjewala said Shah's attacks on the Congress was also an insult to freedom fighters. "Amit Shah, who himself is a trader of power, is today saying that the freedom movement was a business model. But in reality, before independence, Britishers used RSS and Hindu Mahasabha as a special purpose vehicle (SPV) for partition of the country."
Shah was speaking at a function in Raipur on Friday. "Mahata Gandhi didn't (disband the Congress) but now some people are unravelling the party," he said. "My party (the BJP) is clear. If people make anti-national comments, they will be called anti-nationals. Unlike the Congress..."
He said the BJP and the CPI(M) were the "only two parties out of the 1,650 political organisations in India" that have internal democracy.
"After Sonia Gandhi, Rahul will be president of the Congress party, but no one can predict the next president of BJP," he added.