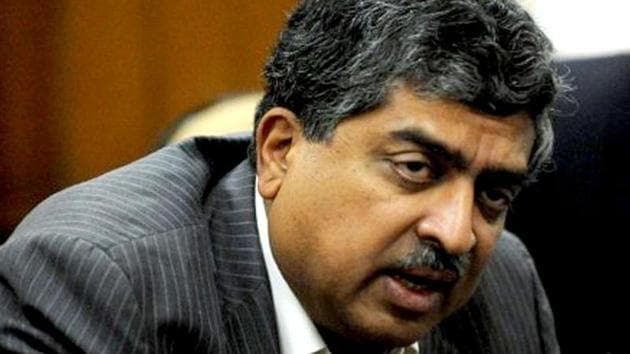 As Aadhaar controversy rages, Nilekani talks about Modi govt's move
An act made Aadhaar number necessary for certain subsidies, benefits and services, the expenditure for which is incurred from the Consolidated Fund of India
New Delhi, Hindustan Times | By Sarika Malhotra
UPDATED ON MAR 24, 2017 07:11 AM IST
The government is right to demand Aadhaar from beneficiaries of state-run schemes such as mid-day meal or subsidies but no one should be denied entitlements because of lack of a unique identity number, Nandan Nilekani has told HT.
Nilekani – the brain behind the Unique Identification Authority of India (UIDAI) and its first chairman – appeared to defend Aadhaar in the face of a storm of criticism of India's largest identification system, saying the scheme had incurred massive savings for the government.
"The government and departments are simply following the law passed by Parliament," the 61-year-old told HT. "Demonising Aadhaar is not going to solve any problem."
Nilekani spoke to HT on Monday, two days before the government pushed a controversial legislation through Parliament that made Aadhaar mandatory for filing income tax returns and applying for PAN cards.
Finance minister Arun Jaitley told the Lok Sabha that Aadhaar might become the sole identity document in the future to weed out fraud. Earlier, the government had made Aadhaar necessary to access the mid-day meal scheme.
The government's move has been criticised by experts, who call the move unconstitutional and in violation of Supreme Court orders that have called for Aadhaar to not be made mandatory.
Nilekani said he wasn't a constitutional expert but believed that expanding Aadhaar for entitlements couldn't be called unconstitutional as Parliament has passed the bill and all other Supreme Court judgments precede the law. "There is a petition in the Supreme Court on the Money Bill aspect. Let the court decide on it."
The Aadhaar (Targeted Delivery of Financial and Other Subsidies, Benefits and Services) Act, 2016 received the assent of the President on the 25th March, 2016 and came into force on September 12, 2016.
The act made Aadhaar number necessary for certain subsidies, benefits and services, the expenditure for which is incurred from the Consolidated Fund of India.
But Nilekani clarified it was the responsibility of every department to follow the act in its true spirit and not deny or exclude people from receiving entitlements due to lack of Aadhaar. "If any such case comes to light, it should be reported and the concerned departments should ensure that the guidelines of the act are followed."
He pointed out that Aadhaar – which issues a unique 12-digit identification number to citizens based on biometric data scan -- eliminated a lot of fakes, resulting in Rs 50,000 crore savings for the government, more than five times the cost of the programme. "It is a very high return on investment. This money can now be well spent for other social sector initiatives," maintained Nilekani.
He also affirmed that the progress made by Aadhaar was excellent with more than a billion people enrolling for it voluntarily. "It is the biggest and one-of-its-kind initiative in the world. It is empowering rather than limiting people. An Aadhaar linked bank account can be opened in a day, it used to take more than seven days earlier."
Close