As Bharat Jodo Yatra enters final leg, Congress pushes for maximum participation
Jan 18, 2023 03:53 PM IST
In a brief video posted by the Congress via Twitter, senior party leaders can be seen congratulating Rahul Gandhi for taking 3,570-km long journey which they termed as 'historic'
Senior Congress leaders on Wednesday hailed the success of the Bharat Jodo Yatra, as the Rahul Gandhi-led march prepares to enter its final destination, Jammu & Kashmir on Republic Day 2023.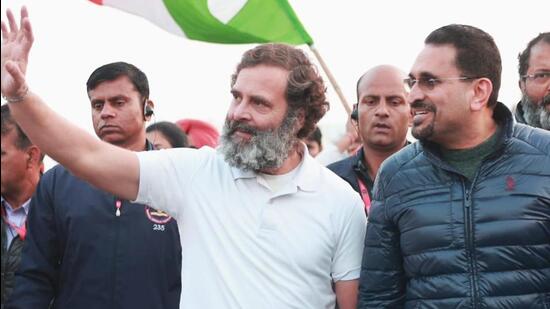 In a brief video posted by the Congress via Twitter, senior party leaders can be seen congratulating Rahul Gandhi for taking 3,570-km long journey which they termed as 'historic'.
Congress president Mallikarjun Kharge while urging people to raise their voices against price rise, and unemployment.
"Rahul Gandhi ji has been walking continuously since September 7, 2022 and is close to the destination. This country belongs to all of us but our Constitution and democracy is at risk and it is quintessential to save it. The Bharat Jodo Yatra has received immense support and lakhs of people have connected to us through this yatra", he said.
Also Read: Rahul Gandhi's security breached in Punjab, man tries to hug him. Video
Congress general secretary Jairam Ramesh said the Bharat Jodo Yatra was 'a transformative moment for the politics of our country and a lifeline for the Congress party.'
He also shed light on the upcoming Hath Se hath Jodo yatra which will be starting on 26 January and be conducted over a period of two months.
"In the last 150 days, the Congress has traversed around 3,600 km and I think this is the first time that someone has taken up a foot march from Kashmir to Kanyakumari. The Bharat Jodo Yatra is not political at all but only to reach out and understand the thought process of the people. But the 'Hath se Hath Jodo' campaign which will begin on 26 January will carry a political intent."
Veteran Congress leader and Madhya Pradesh Congress president Kamal Nath recalled the triumph and support that the Bharat Jodo Yatra had received while it was in the Hindi heartland state.
"Bharat Jodo Yatra, which started from Kanyakumari, is succeeding in connecting the whole of India by giving the message of love and brotherhood in its journey to Kashmir. I further urge all people to join this yatra and thank them for making this historic Rahul Gandhi-led Yatra the grand success it has proven to be", he said.
Congress MP Shashi Tharoor said he was 'proud' to attend the opening of the Bharat Jodo Yatra in Kanyakumari and also in Kerala when the march was in Thiruvananthapuram and at Palakkad district.
Senior Congress leader Digvijaya Singh also garnered praise on Rahul Gandhi.
"Rahul Gandhi had said that I am opening a shop of love in the market of hatred. This is a clear message on how people are troubled by inflation, unemployment and communal hatred today and the Bharat Jodo Yatra has been successful in addressing these issues", he said.
After spending six days in Punjab, Congress leader Rahul Gandhi's Bharat Jodo Yatra entered Himachal Pradesh on Wednesday morning and will further embark towards Jammu Kashmir on 19 January.
Parties across several political spectrums have been invited to join the Yatra's mega rally in Srinagar on 26 January.
The 3,570 km march from Kashmir to Kanyakumari is also said to end in Srinagar on the same day after the Republic Day celebrations.
The same day BJY culminates, Congress general secretary Priyanka Gandhi Vadra will kick-start 'Hath Se Hath Jodo' campaign.
The campaign will be organised in the first phase at village and block levels, in the second phase at the district level and in the third phase at the state level.
Door-to-door contact will be made through padyatra, in which besides meeting people and giving them the basic message of Rahul Gandhi's Bharat Jodo Yatra, a letter of Gandhi will also be handed over to the public along with a report prepared by the Congress against the BJP government's failures since they came back to power eight years ago.