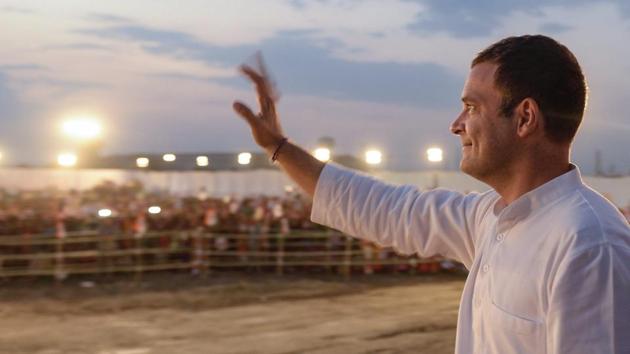 As PM Narendra Modi unveils Statue of Unity, Rahul Gandhi seeks to claim the 'true Congressman
In another tweet, Rahul Gandhi said Patel was a patriot, who fought for an independent, united and secular India.
UPDATED ON OCT 31, 2018 08:24 PM IST
Congress president Rahul Gandhi accused the BJP-led government of "systematic destruction" of institutions that Sardar Vallabhbhai Patel had helped build.
"Ironic that a statue of Sardar Patel is being inaugurated, but every institution he helped build is being smashed. The systematic destruction of India's institutions is nothing short of treason," Gandhi tweeted as Prime Minister Narendra Modi unveiled the 'Statue of Unity' of Patel in Gujarat.
In another tweet, Gandhi said Patel was a patriot, who fought for an independent, united and secular India.
"A man with a steely will, tempered by compassion, he was a Congressman to the core, who had no tolerance for bigotry or communalism. On his birth anniversary, I salute this great son of India," he posted.
The 182-metre statue, the world's tallest, has been built near the controversial Sardar Sarovar Dam in Narmada district of Gujarat and is twice the height of the Statue of Liberty in the US.
Modi, who conceptualised the nearly Rs 2,300-crore project when he was Gujarat's chief minister, said there had been efforts last year to "belittle" Patel or "remove from history" his contributions, who helped unite more than 500 princely states as the first home minister.
The BJP has accused the Congress of ignoring leaders such as Patel, BR Ambedkar, and Subhash Chandra Bose. However, most of them belonged to the main opposition party and fought during the Independence movement and it has said those allegations are a distortion of history.
The Congress also sees the BJP of attempting to use the statue as an attempt to appropriate the legacy of Patel at a time the ruling party has been struggling to retain its support base among the Patel, or Patidar community.
The support of the influential Patidar community, which constitutes 12% of the state's population, is crucial for the BJP to repeat its 2014 record of winning all 26 Lok Sabha seats in the state.
"Not just Patidars, the statue will help the BJP woo Gujaratis as it has been seen a moment for Gujarat Asmita (pride). Even over the OBC quota issue, Patidars are divided and a large section is not adamant over the demand of reservation. This section will be very pleased with Sardar memorial," political analyst Krishnakant Unadkat said.
Close