Assam's rice-based heritage brews to hit the markets in new avatars
Updated on Aug 27, 2018 08:41 AM IST
Rice-based traditional alcoholic beverages like 'Sake' from Japan, 'Yakju' from Korea or 'Sato' from Thailand are integral part of many Asian countries.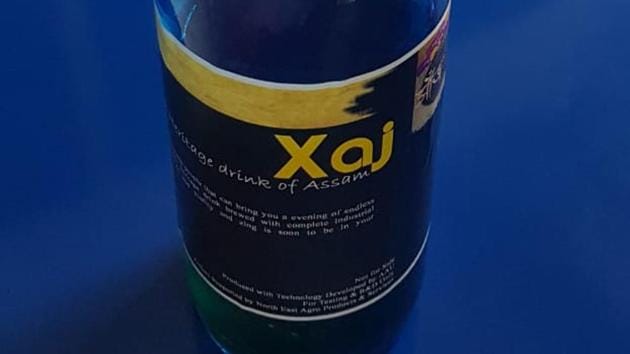 For centuries, many tribes and communities in Assam have been brewing alcoholic drinks in their homes and using them not just as intoxicants but also as part of social and traditional rituals.
But in a few months from now, these popular brews are all set to get a makeover—from being manufactured in state of the art facilities to modern packaging---and hit the markets in new avatars.
The first two such rice-based brews -- 'Xaj pani', used by Ahom and Tiwa communities, and 'Judima' of the Dimasa tribe -- would be commercially available towards the end of this year.
History of rice-based liquors
Rice-based traditional alcoholic beverages like 'Sake' from Japan, 'Yakju' from Korea or 'Sato' from Thailand are integral part of many Asian countries.
In Assam, too, such brews are part and parcel of most indigenous communities.
Besides Ahoms, Tiwas and Dimasas, Karbis have their 'Hor Alank', 'Jou Bishi' of the Bodos, 'Sai Apong' of the Mishings, 'Lao Pani' of the Lalungs or 'Photika' of the Kacharis.
Each tribe has its own unique recipe, but the brews are usually made by preparing a cake of steamed glutinous rice mixed with herbs and spices and letting it ferment for several days and consumed after mixing with water.
Apart from such brews being intoxicating, the herbs mixed with the cake (called starter culture) are also believed to have therapeutic properties, claim the makers of these drinks. The exact ingredients and the quantities used are usually kept secret by the women folk and hence the slight variation in taste from one household to another.
Research to improve quality, shelf life
Though consumed widely, there was no uniformity of taste, alcohol levels and shelf life of these brews. Research to standardize these liquors started nearly a decade ago at the Jorhat-based Assam Agricultural University (AAU).
"Over the years, through experiments we were able to bring uniformity in starter culture, control alcohol content, improve shelf life and also remove the foul odour of 'xaj pani'," said Dr Madhumita Barooah, professor of biotechnology at AAU.
"We have been able to increase shelf life to 7 months, keep alcohol content at around 10%, stop the fermentation process from continuing beyond a certain period and done away with use of starter culture by introducing bacteria and other substance needed for fermentation," she added.
In the meantime, the state's first BJP-led government decided to promote these heritage alcoholic beverages and brought about amendments to the existing excise policy last year with the aim of encouraging commercial production.
From kitchen to distilleries
The amendments to the policy drew interest of local entrepreneurs. One of them was the Jorhat-based North East Agro Products and Services (NEAPS) that is planning commercial production of 'Xaj pani'.
"We were interested in promoting local brews and the government's move made us take the leap. We got in touch with AAU and got the technology developed by them transferred to our company," said Akash Jyoti Gogoi, director NEAPS.
Gogoi's company is in the process of setting up a bottling plant in Jorhat with a capacity to produce at least 50,000 bottles per month. The brew, to be sold as 'Xaj', will be packed in specially designed bottles.
Another entrepreneur who will launch her brand of traditional brew is Neena Hasnu of Karbi Anglong district. An award winning weaver, she plans to mass produce 'Judima'.
"Judima is part of our Dimasa rituals and we know how to make them at home. Now I aim to market it to consumers everywhere. We have got our brew tested, made new bottles and employed dozens of local women. We will be able to produce 10,000 bottles per month," she said.
More on the way
The new policy mandates alcohol content of the brews should not exceed 12%. It also stipulates entrepreneurs should procure 25% of their ingredients from ethnic self-help groups.
"Commercial production will benefit locals as we will be procuring 'bora saul', a variety of sticky rice, from which 'Xaj pani' is made, from farmers in the state," said Gogoi.
Assam excise minister Parimal Suklabaidya said many companies have shown interest in commercial production of the other traditional brews and consumers will soon have more variety to choose from.
"We can't impose restrictions on use of these traditional brews as they are part and parcel of the tribes and communities. But commercial production will ensure that the liquors sold for mass consumption have uniform alcohol content and are produced in a hygienic manner," he said.