Ayodhya dispute: Babri action panel rejects SC advice of amicable solution, BJP hails offer
The Babri Masjid Action Committee wants the matter to be settled in court; BJP welcomes Supreme Court's decision.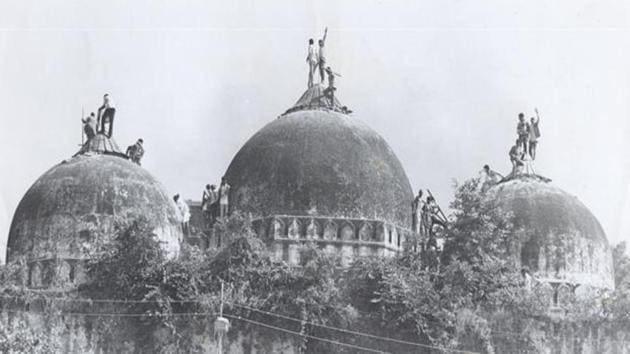 Updated on Apr 04, 2017 06:59 AM IST
Hindustan Times, New Delhi | By Agencies
The Babri Masjid Action Committee rejected the Supreme Court's advice on Tuesday for an amicable settlement of the Ram temple dispute, insisting it wants the matter to be dealt with by the court.
The BJP, however, welcomed the top court's decision, calling it the best way to resolve a long-pending dispute.
"This is a very good step by the apex court. Even the BJP has been encouraging solving the issue through negotiations. It is a very good step to solve the issue by sitting together and negotiating," said PP Chaudhary, minister of state for law and justice and a senior BJP leader.
The Supreme Court said fresh attempts must be made by all parties concerned to find a solution to the Ayodhya temple dispute which is a "sensitive" and "sentimental matter". A bench headed by chief justice JS Khehar even offered to mediate to arrive at an amicable settlement.
But Zafaryab Jilani, convenor of the Babri Masjid Action Committee, which is fighting to rebuild a mosque at the disputed site, refused the advice. "An amicable solution is impossible. This has to be dealt in the court itself. After all, it is long pending in the court," said Jilani.
The court's observation came in response to a plea by BJP lawmaker Subramanian Swamy for an early hearing of a civil dispute over the site where Hindu groups say Lord Ram was born.
A Hindu mob had demolished the historic Babri Masjid on December 2, 1992, at Ayodhya. Muslims groups are opposed to building a temple at the site.
In September 2010, a three-judge Lucknow bench of the Allahabad high court said Lord Ram was born under the central dome of the makeshift temple and Hindus have the right to worship there. Subsequently, the Supreme Court stayed the implementation of the high court's decision. The case has been pending since then.
Swamy said that the Ramjanmabhoomi in Ayodhya should be used only to construct a Ram temple.
"Masjid can be built anywhere, Namaz can be read anywhere... it can be read on the street. The Ram Janmabhoomi is for the Ram Mandir and it should be used for the Ram temple only," he said.
Close Story