Ayushman Bharat: Building India's new health base
Sep 16, 2018 09:03 AM IST
Ayushman Bharat offers up to Rs 5 lakh cashless cover for hospitalisation to 100 million poor and vulnerable families for 1,354 treatment packages.
Preparations for Ayushman Bharat began two years before Union finance minister Arun Jaitley announced the government's flagship health insurance programme in his 2018 Budget speech. The training of a new cadre of community health officers to staff health sub-centres that serve a population of 5,000 began across many states in summer 2017, setting the stage for treatment of simple fever, infections and pain, and early diagnosis and timely referrals to hospitals at the village level.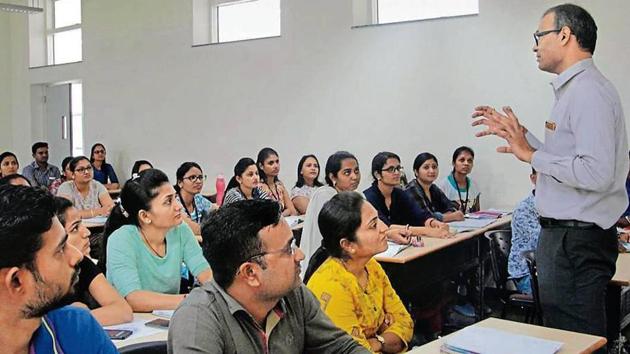 Ayushman Bharat offers up to Rs 5 lakh cashless cover for hospitalisation to 100 million poor and vulnerable families for 1,354 treatment packages, but with district hospitals and medical colleges understaffed and overburdened treating people for simple infections like diarrhoea and viral fevers, there is a desperate need to strengthen primary health services so people get basic treatment within a 2-3 km radius of their homes.
Around 80% of India's 1.04 million registered doctors of modern medicine (allopathy) work in cities, home to 31% of the country's population. For the 69% rural population that is dependent on government healthcare services, the allopathic doctor-population ratio in the government health sector is 1:11,082, as against the World Health Organization's (WHO) recommended ratio of 1:1,000.
"With the primary healthcare system in India collapsing, people turn to private doctors, who are often quacks. Strengthening health sub-centres at the village level will free up doctors for tertiary care and reduce patients' out-of-pocket spending on healthcare substantially, as the need to go to private practitioners, clinics and hospitals will fall, which has been validated last year by the pilot universal health coverage (UHC) project in Tamil Nadu," said Tapasvi Puwar, associate professor, Indian Institute of Public Health,Gandhinagar (IIPHG).
Neighbourhood clinics
The UHC project launched in three rural blocks in Tamil Nadu in early 2017 by the Centre for Technology and Policy at Indian Institute of Technology, Madras, demonstrated that strengthening health sub-centres that ensuring trained personnel, services, basic infrastructure and medicines were always available, reduced the dependence on private hospitals drastically and lowered the out-of-pocket expenditure of the patient as well as the cost of care incurred by the government.
The project, which was launched in Shoolagiri block in Krishnagiri district, Viralimalai block in Pudukkottai, and Veppur block in Perambalur, led to out-of-pocket spending falling between 77% and 92% across blocks. The number of patients visiting out-patient departments and private hospitals also halved in eight months of the project rolling out, with patients' footfall dropping from 51% to 21% in Shoolagiri, from 48% to 24.2% in Viralimalai, and from 41% to 24% in Veppur.
"Health sub-centres are the building blocks of public healthcare as they are the first point of contact with the community. When services there are available and reliable, patients come. Look at private doctors, they close shop after the last patient leaves. With ANMs (auxiliary nurse midwives) and health workers absent or away on field duty three times a week, sub-centres are often found locked. The CHO's role is fixed, they have to be at the centre to ensure people get treatment," said Dr Dileep Mavlankar, director, IIPHG, which is offering a six-month certificate course in community health to create community health officers (CHOs) to run health sub-centres.
Read: Meghalaya increases health cover to Rs 5 lakh under national health protection scheme
The new cadre of CHOs is trained as mid-level providers who will work with ANMs, Ashas (accredited social health activists) and male health workers to ensure every 5,000 population gets basic medicine, diagnosis and treatment. The programme, developed by IGNOU in collaboration with the ministry of health and family welfare, aims at improving the knowledge, skills and competencies of in-service registered nurses and Ayush practitioners to offer primary healthcare services, including preventive and promotive care, at peripheral level.
"The programme was developed with nursing experts, medical experts, social scientists and educationists from various related disciplines to train CHOs in comprehensive primary care, including seven simple pinprick tests for malaria, diabetes and haemoglobin, among others, based on protocols appropriate to sub-center level," said Puwar.
Hands-on training
The first batch of 27 CHOs trained at IIPHG graduated in July and have been begun work at Health and Wellness Centres (HWCs) across Gujarat. The second group of 400 students is being trained in batches, with each getting 736 hours of training, which includes 448 hours of practical training at every level of public health delivery, from primary health centres to district hospitals and medical colleges.
"We work closely with the panchayats, ANMs and Ashas to tell people they can get medicines and treatment in the village. We don't support for skype consultations with the medical officers at PHCs, we use our personal phones, but that will come once more patients come," said Mamta Panchal, a CHO posted at the Godhra HWC in Gujarat.
"Proactive reaching out with services and providing immediate relief will create greater awareness and improve health-seeking behaviour. We're using technology in a big way to digitise, support and evaluate programmes, including using third-party evaluation, to increase efficiency and optimise reach," said Jayanti S. Ravi, health commissioner and principal secretary, health and family welfare, Gujarat.
Read: Taking a cue out of health insurance schemes down south
The National Skill Development Corporation is simultaneously utilising Pradhan Mantri Kaushal Kendra and other Skill Development Centres under the Ministry of Skill Development and Entrepreneurship Skill India Framework to train 100,000 Arogya Mitras at each empanelled public and private hospital to provide support in beneficiary verification, authentication, query management, grievance redressal and handling emergency cases.
"We are extending health coverage to the populations of the US, Canada and Mexico put together and need young people with the right skill sets and knowledge to ensure services reach people. Ayushman Bharat is the world's largest healthcare coverage programme, we need to ensure it's also the world's most robust healthcare coverage programme," said Jagat Prakash Nadda, Union health and family welfare minister.