Babri Masjid demolition case: VHP leaders surrender in court, get bail
May 20, 2017 06:34 PM IST
Five Vishwa Hindu Parishad leaders being tried for their role in the Babri masjid demolition were granted bail by a CBI court in Lucknow on Saturday.
A CBI special court on Saturday granted bail to five VHP leaders in the 1992 Babri Masjid demolition case on personal bond of Rs 20,000 each and a guarantor for every defendant.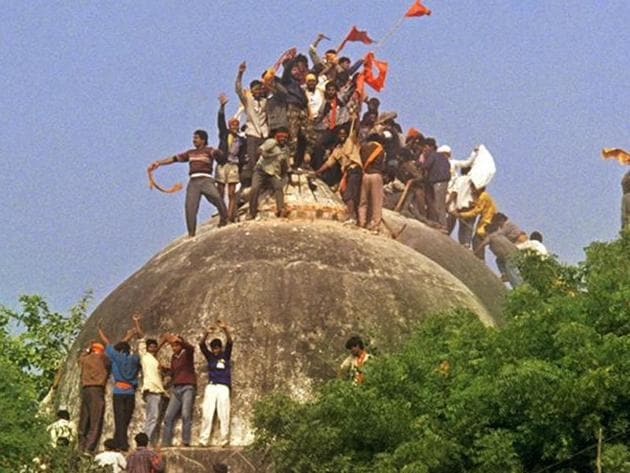 Judge SK Yadav approved the bail applications of Ram Vilas Vedanti (59),
Mahant Nritya Gopal Das (79), Mahant Dharamdas (68), Champat Rai Bansal (71) and Baikunth Lal Sharma (88) after they surrendered in the court before applying for bail.
A sixth accused, Shiv Sena leader Satish Pradhan from Mumbai did not appear because he is unwell.
"All five persons have been granted bail by the court. Satish Pradhan will appear on Wednesday," said KK Mishra, counsel of the VHP leaders.
Following directions of the Supreme Court for daily hearing of the case, the judge fixed Monday as the next date of hearing.
"After appearance of Satish Pradhan before the court, date for appearance of LK Advani, Murli Manohar Joshi and Uma Bharti will be fixed," Mishra added.
The court campus, which has been set-up on the third floor of the Institute of Cooperative and Corporate Management Research and Training, Indira Nagar, resonated with chants of 'Jai Sri Ram' when the VHP leaders came out after their bail applications were approved.
After getting bail, one of the accused, Vedanti said, "It was I who had instigated the crowd to bring down the (disputed) structure in Ayodhya. Advani ji was the one who was trying to restrain kar sewaks (on December 6, 1992)".
He remained adamant that the Ram temple must be built in Ayodhya.
"Even Muslims want Ram Mandir in Ayodhya. For ensuring communal harmony in the country, the temple is necessary," Vedanti said.
The VHP leaders appeared before the special court after it sent them a notice.
Last month, the Supreme Court ruled that senior BJP leaders LK Advani, Murli Manohar Joshi, Uma Bharti and others will be tried for conspiring to bring down the 16th century Babri mosque.
The SC order came after the CBI challenged the Allahabad high court's decision to uphold the trial court's discharge order favouring Advani, Joshi, Bharti and Kalyan Singh, who is at present governor of Rajasthan.
Due to immunity provided by the constitution to governors from legal proceedings, the CBI court did not issue notice to Kalyan Singh to appear before it.
Hearing the CBI's petition on April 19, the two-judge bench of the Supreme Court of Justice PC Ghose and Justice RS Nariman had also ordered the CBI to club the two cases pending in Rae Bareli and Lucknow courts, and also directed to conduct the hearing of the case in Lucknow.
It was after the apex court's order that the CBI had sent summons to all those associated with the demolition of the mosque, including BJP and VHP leaders.