Bandi Sanjay's son booked for 'assault'
Published on Jan 17, 2023 11:55 PM IST
It is not immediately known when the incident took place, but a video of Bhagirath, studying in second year of Bachelor of Business Administration (BBA), abusing the student in a filthy language and slapping him repeatedly went viral in the social media on Tuesday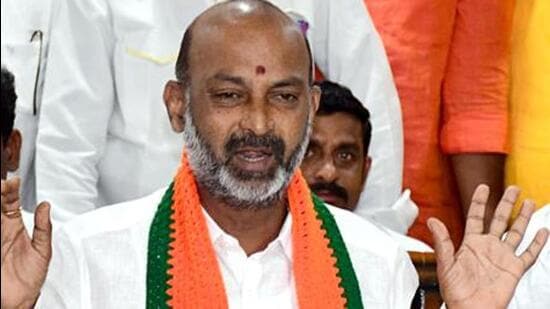 Hyderabad
The police at Dundigal on the outskirts of Hyderabad on Tuesday registered a criminal case against Bandi Bhagirath Sai, son of Telangana Bharatiya Janata Party president and Karimnagar MP Bandi Sanjay, for allegedly abusing and beating up a fellow student on Mahindra University campus, officials said.
It is not immediately known when the incident took place, but a video of Bhagirath, studying in second year of Bachelor of Business Administration (BBA), abusing the student in a filthy language and slapping him repeatedly went viral in the social media on Tuesday.
Bhagirath's friend also was seen indiscriminately attacking the student. The BJP leader's son was heard threatening the student with dire consequences if he revealed the same to others. He said nobody would be able to do anything even if it was brought to the notice of the government.
A police official in the Dundigal police station said based on a complaint lodged by the disciplinary committee of the Mahindra University, a case was registered against Bhagirath under Sections 341 (wrongful restraining), 323 (voluntarily causing hurt), 504 (intentional insult to cause breach of peace) and 506 (criminal intimidation) of Indian Penal Code.
Late in the evening, Sanjay's office released another video to the media, in which the student, identifying himself as Sriram (only first name), was seen narrating the incident but giving a clean chit to Bhagirath.
Sriram said Bhagirath was his close friend and he had beaten him for misbehaving with a girl, who was the sister of Bhagirath's friend. "I made a call to the girl at 4 am and asked her to love me. When Bhagirath came to know about this, he reprimanded me. But I spoke rudely with him and so, he beat me up," he said.
Stating that there was no point in making the video viral, as he had admitted his mistake and he and Bhagirath continued to be friends. "It was a closed chapter and there are no issues between us. Whatever has happened has happened and we forgot about it. The video is being circulated only to create differences between us and blackmail us," Sriram says in the video.
"The first video was being deliberately circulated in the social media only to tarnish the image of Sanjay. That is why, this second video is being released," the BJP leader's office said.